An update on two alleged rhino horn smugglers arrested in the US.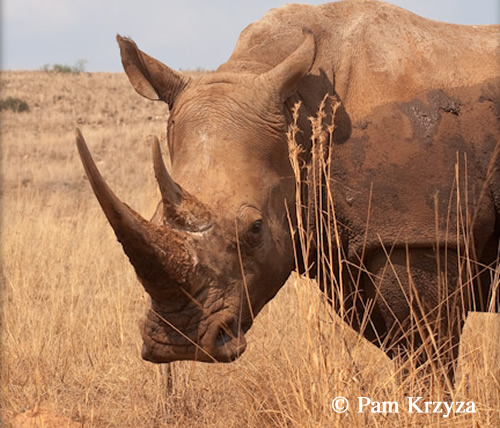 After losing their bid to have the case thrown out, two Irish citizens who attempted to purchase four rhino horns in the US are expected to plead guilty. Richard O'Brien and Michael Hegarty reportedly filed a "notice of disposition", indicating a possible plea deal.
The pair was arrested in November 2010 during an undercover operation in Colorado when they paid USD $ 17,000 for four rhino horns.
According to the Denver Post, Chief U.S. District Judge Wiley Daniel rejected the suspects' arguments that they had not tried to smuggle anything and that their due process rights were violated.
The suspects were indicted by a grand jury on money laundering and smuggling charges.
The government is prosecuting the case under a law created as part of the reauthorization of the Patriot Act. The law says anybody who attempts to export something contrary to U.S. law is guilty of smuggling.
A third suspect, John Sullivan, has not yet been apprehended.
History of smuggling
This is not the first time O'Brien and Hegerty have been on the wrong side of the law.
In May 2004, the Sunday World newspaper reported that the pair was arrested in Belgium for their involvement with an international cigarette smuggling operation1.
Rathkeale car dealer and antiques trader Daniel 'Turkey' O'Brien (34) is charged with being a member of an organised crime gang along with three other travellers … Turkey's teenage nephew Richard 'Kerry' O'Brien (19) is also facing the same set of charges.
Laundering rhino horn
In a troubling testament to the enormity and pervasiveness of the illegal rhino horn trade, would-be rhino horn buyers are attempting to obtain rhino horn legally from taxidermists and antiques auctions.
Dealers of illegal rhino horn make their profits by selling "legally" acquired products for processing into traditional medicines. This activity prompted UK authorities to tighten regulations governing trade in antique rhino horn.
Rhino horn is in high demand for use in traditional medicines in China and Vietnam, despite the fact that rhino horn has been extensively analyzed and actually contains no medicinal properties.
---
1. "Irish travellers face cigarette smuggling rap." Sunday World 09 May 2004
Photo courtesy of Pam Krzyza