Authorities in Nepal have arrested a well-known rhino poacher.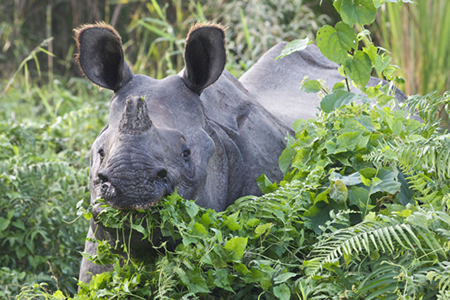 A notorious rhino poacher who had previously been granted amnesty by the Nepalese government is once again in custody. Ram Sharan Bishworkarma (Ramsaran BK), along with Chhong Palden Lama, were reportedly arrested in Kathmandu with twelve rhino toes in their possession.
In 2001, Bishworkarma was sentenced to 15 years in prison, but was set free along with eleven other poachers in 2006, a year marked with political upheaval and unrest in Nepal.
The Central Investigation Bureau (CIB) nabbed Bishworkarma in a raid, as part of "Operation Hunt" which has been targeting wildlife poachers.
BK, who is known as an all-time notorious rhino-horn smuggler, was nabbed last week in the capital in a raid by the Central Investigation Bureau (CIB), which has been running ´Operation Hunt´ against poaching rings for a couple of months now.
Chitwan National Park conservation officer Jagganath Singh said via MyRepublica that the poachers' amnesty had resulted in more rhino killings in the Park.
The amnesty was followed by more deaths of rhinos here. We are now verifying details about the post-amnesty activities of the poachers.
Bishworkarma's accomplice, Lama, admitted to officials that he was smuggling wildlife parts for a Chinese national named Henan.
Rhino toenails
Unfortunately, rhinos have historically been viewed as a walking pharmacy by many people in East and Southeast Asia, where rhino horn is still consumed for its alleged medical properties. It is less well known in the West that rhino toenails are considered the "poor man's rhino horn" in some areas.
Rhino horn and ivory trade expert Dr. Esmond Martin found in a 1990 survey that Sumatran rhino nails were fetching about 12.5% the price of rhino horn in Bangkok medicine shops catering to the Chinese population.1
In November 1998, he wrote that Nepal's government storerooms held 1,363 nails and 83 horns from the greater one-horned rhino.2
On March 22, 1998, the nails – along with rhino skins, teeth, skulls, tiger and leopard bones, tiger skins and 64 elephant tusks – were burned by the government authorities.
Unfortunately, the rhino horns were not included.
Notorious rhino killing gang arrested
Five people suspected of killing at least a half dozen rhinos over the past year in Chitwan National Park were arrested in February.
Also in February, a rhino killer was shot dead by a joint patrol team of Bardia National Park and the Nepal Army after the poachers opened fire on the patrol unit.
Nepal has already lost one rhino to the illegal rhino horn trade in 2011. The tragedy occurred during the first week of January in Chitwan National Park.
Rhino horn traders arrested
Earlier this month, three rhino horn traders were arrested by Nepalese authorities.
The suspects were handed over to Nepal's forest department, which has a track record of administering tough penalties for rhino crimes.
In May 2010, Chitwan National Park officials handed out prison sentences to 16 rhino poachers. Three received ten years in jail, one received 14 years, and the remaining twelve will spend 15 years in prison.
Greater one-horned rhinos
One of the three Asian rhino species, greater one-horned rhinos (Rhinoceros unicornis) were once widespread throughout the northern floodplains and nearby foothills of the Indian sub-continent between Indo-Myanmar border in the east, and Sindh River basin, Pakistan in the west.
Today, the remaining 2,850 greater one-horned rhinos are found only in a few protected areas in northeastern India and lowland Nepal.
Traditional medicine myths continue to threaten rhinos
Although the greater one-horned rhino population is steadily increasing, these rhinos remain under threat of being killed for their horn.
Despite the fact that extensive scientific analysis has confirmed that rhino horn has no medicinal value, myths and superstitions about rhino horn persist throughout China and Vietnam, where rhino horn is considered a key ingredient of Traditional Chinese Medicine.
How to help
To learn more about our efforts to help support public awareness activities in Nepal, check out Update from Nepal: A Successful Year of Raising Public Awareness About Rhino Conservation.
We appreciate your help in educating others through sharing our articles, and for your continued support through rhino t-shirt sales.
---
Photo: istockphoto.com
Additional sources:
1. "African and Asian rhino products for sale in Bangkok." Vigne, L.; Martin, E.B. (1991) Pachyderm, Volume: 14
2. "Nepal destroys large stocks of wildlife products." Martin, E.B. (1998) Pachyderm, Volume: 25