Three people are in custody for dealing in rhino horn.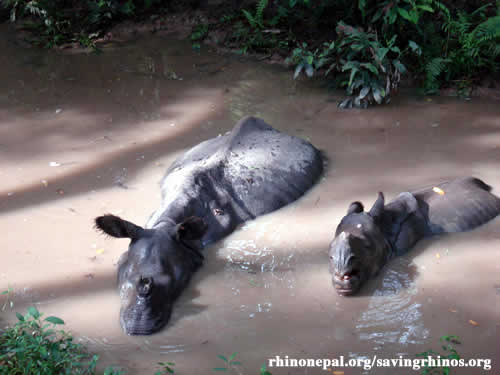 A trio of rhino horn traders were reportedly arrested over the weekend by Nepalese authorities. The suspects have been identified as Kumud Raya of Dadar Beriya-9, along with Ramnanda Raya and Arun Mandal of Karsiya, Morang.
Police turned the Raya duo and Mandal over the to District Forest Office for sentencing.
Tough penalties for rhino crimes in Nepal
Nepal's forest department has a track record of administering tough penalties for rhino crimes.
In May 2010, Chitwan National Park officials handed out prison sentences to 16 rhino poachers. Three received ten years in jail, one received 14 years, and the remaining twelve will spend 15 years in prison.
Notorious rhino killing gang arrested in Nepal
Five people suspected of killing at least six – and possibly seven – rhinos over the past year in Chitwan National Park were arrested in February. The gang members were identified as Kajiman Praja, his two wives Sanu Maya Praja and Dil Maya Praja, his sister Kalpana Praja, and another relative, Dei Praja.
The "Praja poachers" are from the indigenous Chepang community. Conservationist Suman Bhattarai of PARC/Nepal explained to us that Chepang, along with Tharu and Tamang people, are frequently recruited by wildlife trafficking syndicates to carry out the murders of Nepal's precious rhinos. The women and young people are then used to smuggle rhino horn into the cities of Kathmandu and Pokhara.
Also in February, a rhino killer was shot dead by a joint patrol team of Bardia National Park and the Nepal Army after the poachers opened fire on the patrol unit.
Nepal has already lost one rhino to the illegal rhino horn trade in 2011. The tragedy occurred during the first week of January in Chitwan National Park.
Greater one-horned rhinos in Nepal
Approximately 435 greater one-horned rhinos (Rhinoceros unicornis) reside in Nepal, within the protected areas of Chitwan National Park, Bardia National Park, and Shukla Phanta Wildlife Reserve.
Chitwan National Park also enjoyed a rhino baby boom in 2010, with the birth of eight calves.
Greater one-horned rhinos were once widespread throughout the northern floodplains and nearby foothills of the Indian sub-continent between Indo-Myanmar border in the east, and Sindh River basin, Pakistan in the west. Today, the remaining 2,850 greater one-horned rhinos are found only in a few protected areas in northeastern India and lowland Nepal.
Traditional medicine myths continue to threaten rhinos
Although the greater one-horned rhino population is steadily increasing, these rhinos remain under threat of being killed for their horn.
Despite the fact that extensive scientific analysis has confirmed that rhino horn has no medicinal properties, myths and superstitions about rhino horn persist throughout China and Vietnam, where rhino horn is considered a key ingredient of traditional Chinese medicine.
How to help
To learn more about our efforts to help support public awareness activities in Nepal, check out Update from Nepal: A Successful Year of Raising Public Awareness About Rhino Conservation.
We appreciate your help in educating others through sharing our articles, and for your continued support through rhino t-shirt sales.
---
Source: "3 arrested with rhino horn." The Himalayan Times, 03 April 2011
Photo courtesy of Suman Bhattarai, Partnership for Rhino Conservation, Nepal (PARC/Nepal)