The body count climbs higher.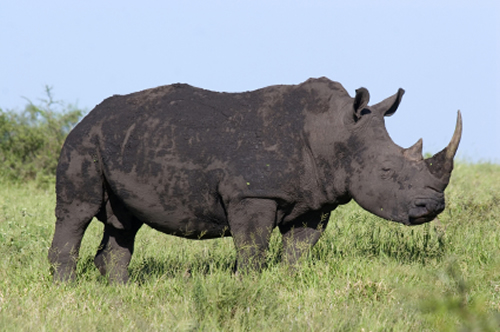 The assault on South Africa's rhinos continues, with the latest published reports showing at least 82 of the country's iconic pachyderms slaughtered since the beginning of the year. However, sources outside the media cite a higher figure of 102.
Most recently, three rhinos were killed over the weekend on farms in Limpopo Province.
Changing tactics?
Although typically killed by automatic weapons and even overdosed with veterinary drug M99 (Etorphine), one of the weekend's rhinos was found in a snare.
Kevin Bewick, head of the Anti-Poaching Intelligence Group Southern Africa – a private initiative that supplies intelligence to private and government anti-poaching units – told us that the killers could be changing tactics.
Gun shots can be heard. Most [rhinos] are shot, but a few have been snared.

Either the poacher did not have a rifle, or they are now changing tactics, because of anti-poaching unit pressure, and placing snares on known game paths used by rhino moving to water.
And while anti-poaching units are doing the best they can with the resources available, support for front line heroes is scant when compared to the well-funded and heavily armed rhino horn syndicates.
Anti-poaching units struggle against high-tech syndicates
Last week, the Mail & Guardian reported that 79 rhinos had been killed in 2011, already eight more than the number released on March 14th.
The rising body count is exacerbated by anti-poaching units' lack of resources, notes Bewick.
While syndicates often used helicopters and hi-tech equipment, the budget for anti-poaching units in provincial reserves had been slashed so heavily they had to rely on private donations even to buy diesel.
He added that while Kruger National Park's anti-poaching unit is better resourced and is also expected to received support from the South African National Defence Force (SANDF), the Park's borders are "very long and it's difficult to protect."
In 2010, Kruger National Park lost 146 rhinos to the illegal rhino horn trade, and already 46 rhinos have been killed in the flagship park this year.
A total of 333 rhinos were slaughtered in South Africa during 2010.
Increased penalties recommended by experts
The African Rhino Specialist Group (AfRSG), which serves as the IUCN Red List Authority for African rhinos, met recently to discuss the alarming escalation in rhino killings.
They urged "greater cooperation between wildlife investigators, police and prosecutors [and for] magistrates and judges to be more sensitive to rhino issues".

While the number of arrests has increased, there is an urgent need for improved conviction rates and increased penalties for rhino-related crimes.
Indeed, the South African courts' apparent unwillingness to administer tough punishments for rhino horn crimes seems at times to be working in opposition to law enforcement and intelligence efforts.
With the exception of last month's ruling by the Nelspruit Regional Court and last June's successful sentencing by the Kempton Park Magistrate's Court, the South African judicial system has apparently failed to grasp the seriousness of the country's rhino crisis.
It is worth noting that while these recent convictions are most welcome, the courts have so far been unwilling to address the corruption that seems to be rampant inside South Africa's wildlife conservation community.
In November 2010, world-renowned expert in ivory and rhino horn trade, Dr. Esmond Martin was interviewed by Wildlife Direct's Paula Kahumbu about the rhino slaughter in Southern Africa.
Dr. Martin explained that the system of granting bail for rhino-related crimes is indeed a major concern. He pointed out that rhino poaching in Swaziland is a non-bailable offense, and that in Nepal, the forest department – not the court system – administers punishment to rhino poachers.
Listen to the interview here:
In addition to the court system failures, "insiders" from within the South African conservation community are apparently doing the unthinkable: Cashing in on the rhino horn myth.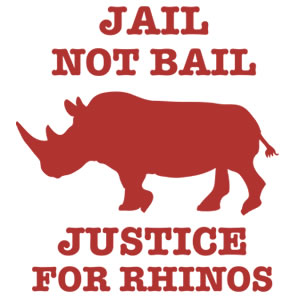 Court appearance for 'Groenewald gang'
Next week, the eyes of the world will be on South Africa as the high-profile case of game farmer Dawie Groenewald, along with ten other suspects including veterinarians and professional hunters, is set to begin.
The well-known "Groenewald gang" will face charges of corruption, fraud, assault, malicious damage to property, illegal possession of firearms and ammunition, and contravention of the National Environmental Biodiversity Act.
All eleven suspects were granted bail in September 2010 by the Musina court's magistrate Errol Luiters.
Although Groenewald's bail was set at R1 million (USD $144,471), he seemed to have no trouble producing such a hefty amount of money.
---
Image #1 – istockphoto.com; #2 Saving Rhinos LLC