Scientific studies conclude rhino horn is worthless as a remedy.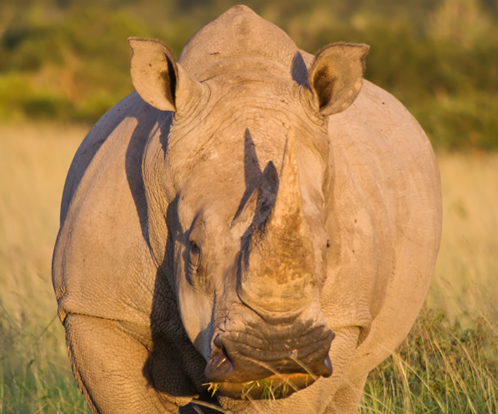 As part of our continued efforts to set the record straight on rhino horn's so-called curative properties, we would like to re-introduce three scientific studies confirming that rhino horn has no medicinal value. The studies were conducted by different teams of researchers at separate institutions.
In each case, the results were conclusive: There is no scientific evidence to support claims of rhino horn's usefulness as a medicine.
Public awareness and education
We believe that today's network of communication tools, such as social media, will make it possible for these findings to reach a global audience like never before – and we can move closer to busting these persistent myths about rhino horn, which are indeed the root of the rhino crisis.
By raising public awareness and educating others about the truth behind rhino horn, we can make a difference.
Scientific evidence ignored; rhino population plummets
When there were still at least 15,000 black rhinos on the African continent, WWF and the IUCN commissioned a pharmacological study of rhino horn, hoping that science would trump cultural myths.
Conducted by Hoffmann-LaRoche, the research was published in The Environmentalist.
The study "found no evidence that rhino horn has any medicinal effect as an antipyretic and would be ineffective in reducing fever, a common usage in much of Asia."
Testing also confirmed that "rhino horn, like fingernails, is made of agglutinated hair" and "has no analgesic, anti-inflammatory, anti-spasmolytic nor diuretic properties" and "no bactericidal effect could be found against suppuration and intestinal bacteria."
Tragically, by 1993, ten years after the study was published, Africa's black rhino population had plummeted to just 2,300.
Rhino horn in the laboratory – again
Later analysis of rhino horn by Dr. Raj Amin at the Zoological Society of London confirmed what had been found earlier by the pharmacological testing done by Hoffmann-LaRoche.
There was still no evidence to support the notion that rhino horn was of any medicinal value. Check out Dr. Amin's video:
"There is no evidence at all that any constituent of rhino horn has any medical property. Medically, it's the same as if you were chewing your own nails," says Dr. Amin.
Of rats and rhino horn
The usefulness of rhino horn as a medicine was also debunked by scientists at the Chinese University of Hong Kong, who published their findings in the research study Ethnopharmacology of Rhinoceros Horn. I: Antipyretic Effects of Rhinoceros Horn and Other Animal Horns.
Although fever-induced rats showed temporary lowering of temperature after being injected with an extremely high concentration of rhino horn extract, there was no antipyretic effect at the dosage levels comparable to what would be prescribed to a human patient.
Apparently, based on the results of this study, rhinoceros horn can reduce fever, but only at rather high dosage levels when prescribed as a single drug.
It is worth noting that while the Chinese University at Hong Kong study is often cited as "evidence" that rhino horn does indeed reduce fever, the above details (rats and dosage levels) are frequently omitted.
'Something that works for everything works for nothing'
In September 2010, Dr. Albert Lim Kok Hooi, a consulting oncologist based in Kuala Lumpur, published a most welcome article in Malaysia's popular online news portal, The Star Online in which he dismissed the notion of rhino horn's effectiveness as a medicine.
A lingering cultural belief in traditional medicines (most are based on TCM) in Southeast Asia, and the impact on rhino conservation efforts prompted Dr. Hooi speak up on behalf of the embattled pachyderms.
To all this, I say that something that works for everything usually works for nothing. I also say that something that has been used for hundreds or thousands of years does not make it right.
The oncologist sums it up in a compassionate statement underscoring the fact that rhino horn contains no curative properties.
The whole sad story of killing the rhino for its horn is not only criminal, it is cruel, immoral and unforgivably, without any scientific basis.
Although Dr. Hooi comes from a generation whose medical knowledge was shaped by myths about the alleged magical powers of animal parts, he realizes that these notions have no place in modern medicine.
Rhinos pay the price of myths, greed, and corruption
Earlier this month, South Africa National Parks (SANParks) announced that more than 70 rhinos have already been slaughtered since the beginning of the year.
During the same time period, 64 people have been arrested in connection with rhino horn crimes.
Meanwhile, at least eleven alleged rhino horn syndicate members are expected in court on April 11th, when the high-profile case involving game farmer Dawie Groenewald begins.
The eleven accused rhino horn syndicate members, including Groenewald, along with veterinarians Karel Toet and Manie du Plessis, will face charges of assault, fraud, corruption, malicious damage to property, illegal possession of firearms and ammunition, and contravention of the National Environmental Biodiversity Act.
Continued use of illegal rhino horn
The biggest threat to the survival of the world's rhinos is the continued use of illegal rhino horn in Traditional Chinese Medicine.
Despite scientific evidence that proves otherwise (see above!), millions of people still believe in the notion of rhino horn as a cure-all for a wide array of maladies, which has traditionally included fever and "devil possession".
Rhino horn is even marketed by TCM practitioners in China and Vietnam (and on TCM websites) as a treatment for extremely serious illnesses, such as cancer.
Worryingly, this burgeoning market for rhino horn as a cancer treatment has prompted interest in selling rhino horn stockpiles or even legalizing rhino horn trade, as a way to profit from families of terminally ill patients.
Estimates for the price of illegal rhino horn range from USD $25,000 to $60,000 per kilogram.
How to help
You can help raise public awareness about the illegal trade in rhino horn by sharing the articles on this blog. You can also:
---
Image #1: istockphoto.com