Wildlife rangers in South Africa's KwaZulu-Natal Province have shot and killed a suspected rhino poacher.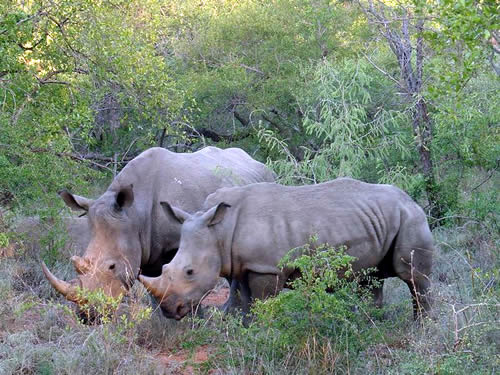 A suspected rhino poacher was reportedly shot and killed by Ezemvelo KwaZulu-Natal Wildlife rangers in the Ndumo Game Reserve. Tragically, a female white rhino had already been butchered and her front horn hacked out.
This was apparently the second rhino murdered at Ndumo within one week.
According to South Africa's Times Live, the rangers positioned themselves near the dead rhino to see if the killers would return for the second horn. Later in the evening, a gang of five men approached the carcass.
Waiting field rangers, acting according to established protocol, challenged the men by announcing who they were, and called on them to lay down their weapons.
One of the suspected poachers who was armed with a rifle raised his weapon and took aim at the rangers, who then fired a shot into the man's leg.
Although an ambulance was summoned and first aid was administered, the suspect died. His four accomplices fled into the bush, and rangers confiscated a .375 caliber hunting rifle.
Rhino death toll climbs in South Africa
Earlier this month, South Africa National Parks (SANParks) announced that more than 70 rhinos have already been slaughtered since the beginning of the year.
During the same time period, 64 people have been arrested in connection with rhino horn crimes.
Meanwhile, at least eleven alleged rhino horn syndicate members are expected in court on April 11th, when the high-profile case involving game farmer Dawie Groenewald begins.
The eleven accused rhino horn syndicate members, including Groenewald, along with veterinarians Karel Toet and Manie du Plessis, will face charges of assault, fraud, corruption, malicious damage to property, illegal possession of firearms and ammunition, and contravention of the National Environmental Biodiversity Act.
Continued use of illegal rhino horn
At the root of the rhino crisis is the continued use of illegal rhino horn in Traditional Chinese Medicine.
Despite the fact that extensive scientific analysis has proven that rhino horn is of no medicinal value, there is still a thriving market for rhino horn in China and Vietnam.
Unfortunately, millions of people still believe in the notion of rhino horn as a cure-all for a wide array of maladies, which has traditionally included fever and "devil possession".
Rhino horn is even marketed by TCM practitioners in China and Vietnam (and on TCM websites) as a treatment for extremely serious illnesses, such as cancer.
Worryingly, this burgeoning market for rhino horn as a cancer treatment has prompted interest in selling rhino horn stockpiles or even legalizing rhino horn trade, as a way to profit from families of terminally ill patients.
Estimates for the price of illegal rhino horn vary widely, and range from USD $25,000 to $60,000 per kilogram. For example, it was reported earlier this year by Care for the Wild International and Wildlife Extra that rhino horn was indeed fetching USD $50,000 per kilogram.
How to help
You can help raise public awareness about the illegal trade in rhino horn by sharing the articles on this blog. You can also:
---
Image: Wikimedia Commons