Zimbabwe's disconcerting plan to fuel the rhino horn market is derailed.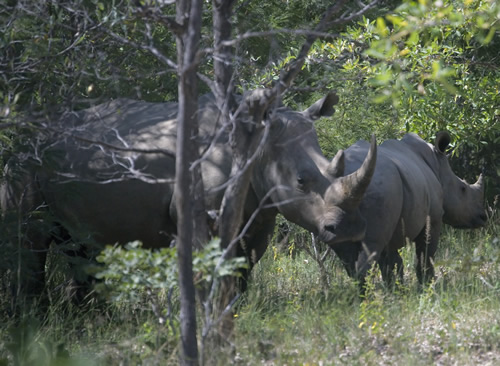 A risky move by Zimbabwe to sell its five tonnes of stockpiled rhino horn has reportedly been thwarted by CITES. The notion was quashed before it could be turned into a formal proposal, and the country's bid to release rhino horn into the illegal market is unlikely to be taken seriously if it resurfaces.
The issue was raised last month by Zimbabwe's Environment and Natural Resources Management Minister Francis Nhema, who stated that selling the rhino horn stockpiles would stop the rampant illegal slaughter of rhinos for their horns.
Selling rhino horn is not a solution
CITES Chief of Enforcement, John Sellar told the The Zimbabwean that the only markets that exist for rhino horn are illegal, and dismissed the notion of "considering trade as the solution" to Southern Africa's rhino crisis.
There is currently no legal market for rhinoceros specimens. It would, at present therefore, be illogical to authorise exports of rhinoceros horn if there is no legal destination to which they could be sent.
Mr. Sellar added that CITES had not been contacted by Zimbabwe's government regarding the issue of selling rhino horn stockpiles.
The CITES secretariat has had no contact from the government of Zimbabwe on this subject. Zimbabwe may have contacted other parties to the convention, but if so, we are not aware of any such contact.
Indeed, calls for stockpile sales or other efforts to legalized rhino horn trade stand to undermine efforts by the international community to keep rhino horn out of illegal markets in consumer countries.
Legal rhino horn trade would exploit the terminally ill
Recently, Mr. Sellar brought up a crucial point that is often overlooked by those wishing to profit by legalized rhino horn trade.
After tragically experiencing the loss of a family member to cancer, Mr. Sellar explained via The Independent Online that the business of legal rhino horn trade depends upon the exploitation of families at their most vulnerable.
I think what's going on is really despicable. Criminals are preying upon the sufferers of what is one of today's most horrendous diseases … exploiting sufferers and their relatives at a time of their lives when they're essentially facing a debilitating and often terminal condition.

It's like telling someone who has lung cancer to chew their fingernails.
Unsurprisingly, the most outspoken support for legalized rhino horn trade has come from a few South African game farmers who have amassed private stockpiles of rhino horn and are hoping to turn the horns into profits.
Keeping rhino horn out of consumer countries
In sharp contrast to Zimbabwe's desire to release rhino horns into the market, a significant step towards curbing the illegal rhino horn trade comes from India, where prominent wildlife officials are in favor of publicly destroying the country's 1,571 rhino horns in an effort to break the trading cycle and send the message that rhino horn is of no value.
The destruction of rhino horn stockpiles is also supported by renowned elephant and rhino expert, Dr. Dame Daphne Sheldrick.
Also calling for the elimination of rhino horn stockpiles is UK-based Care for the Wild International.
Horn stockpiles that are currently in private hands need to be managed by governments in a transparent way, and preferably destroyed.
At the CITES CoP15 in March 2010, Kenya proposed an amendment calling for the destruction of rhino horn stockpiles. However, it was met with opposition by other member parties, and ultimately revised.
Kenya introduced a draft revision of the resolution on conservation of and trade in African and Asian rhinoceroses. Though there was broad support for certain elements of the proposed amendments, there was also strong opposition to other proposed changes, particularly those focused on destruction of existing rhino horn stockpiles.
The Species Survival Network (SSN) furthermore urged the Parties to make the private stockpiling of rhino horns illegal.
And in August 2010, I voiced Saving Rhinos' support for the destruction of rhino horn stockpiles in an interview on The Wildlife with Laurel Neme radio talk show, discussing illegal trade in rhino horn. You can listen to the podcast by clicking the green arrow below:
Use of rhino horn in traditional Chinese medicine
At the root of the rhino crisis is the continued use of rhino horn in traditional Chinese medicine.
Illegal rhino horn is in highly sought after for use in traditional medicines in China and Vietnam, despite the fact rhino horn has been extensively analyzed and contains no medicinal properties.
Research conducted by the wildlife trade monitoring network TRAFFIC revealed that most rhino horns leaving Southern Africa are being smuggled to China and Vietnam.
---
Image: Wikimedia Commons