A glimmer of hope from the South African judicial system.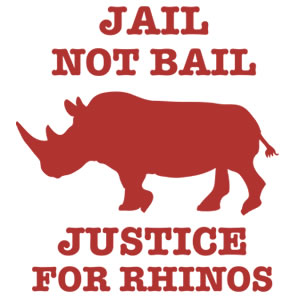 Three Mozambican citizens have been sentenced to prison by the Nelspruit Regional Court for illegally hunting rhinos. Renaldo Franchesco Masiki and Elvis Mdaka were sentenced to nine years, and Joao Sendelani Malangute received five years. Masiki and Mdaka were also found guilty of possessing illegal fire arms and ammunition.
The trio was arrested in October 2010 at the Crocodile Bridge Section of Kruger National Park.
South African National Parks (SANParks) Head of Communications, Wanda Mkutshulwa, noted in a media release that her organization is "very pleased" with the outcome of this case, and is hopeful that harsher sentences will continue to be imposed.
It has been nearly ten months since a South African court imposed a meaningful punishment for rhino crimes. In June 2010, the Kempton Park Magistrate's Court sentenced Vietnamese citizen Xuan Hoang to ten years in prison for attempting to smuggle rhino horns from South African to Vietnam.
Bail not a deterrent
With the exception of this week's decision by the Nelspruit Regional Court and last June's successful sentencing by the Kempton Park Magistrate's Court, the South African judicial system has apparently failed to grasp the seriousness of the country's rhino crisis.
It is worth noting that while these convictions are most welcome, the courts seem unwilling to address the corruption that seems to be rampant inside South Africa's wildlife conservation community.
In November 2010, world-renowned expert in ivory and rhino horn trade, Dr. Esmond Martin was interviewed by Wildlife Direct's Paula Kahumbu about the rhino slaughter in Southern Africa.
Dr. Martin explained that the system of granting bail for rhino-related crimes is indeed a major concern. He pointed out that rhino poaching in Swaziland is a non-bailable offense, and that in Nepal, the forest department – not the court system – administers punishment to rhino poachers.
Listen to the interview here:
In addition to the court system failures, "insiders" from within the South African conservation community are apparently doing the unthinkable: Cashing in on the rhino horn myth.
There is an in-depth look at this disturbing topic at Are 'Insiders' Intentionally Fueling Demand for Illegal Rhino Horn?
Eyes of the world
In less than a month, the eyes of the world will be on South Africa as the high-profile case of game farmer Dawie Groenewald, along with ten other suspects including veterinarians and professional hunters, is set to begin.
There is even a peaceful demonstration planned for April 11th, the day Groenewald and his cohorts are expected back in court.
The well-known "Groenewald gang" will face charges of corruption, fraud, assault, malicious damage to property, illegal possession of firearms and ammunition, and contravention of the National Environmental Biodiversity Act.
All eleven suspects were granted bail in September 2010 by the Musina court's magistrate Errol Luiters.
Although Groenewald's bail was set at R1 million (USD $144,471), he seemed to have no trouble producing such a hefty amount of money.
---
Image: Saving Rhinos LLC