More bail for rhino horn crimes.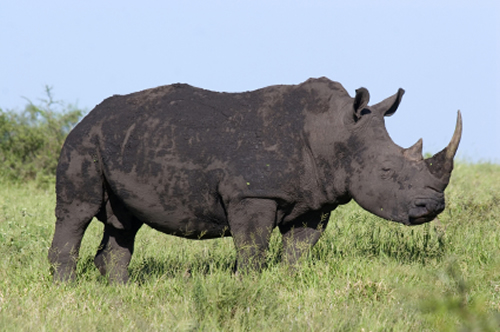 A pair of suspected rhino horn dealers, Yahya Jiwa and Rasool Malek, were reportedly arrested for attempting to purchase rhino horns, and then released on bail. The incident occurred in the town of Louis Trichardt, near the Zimbabwe border.
According to MSN News, Jiwa and Malek had previously approached a game ranger inside a national park to find out where rhino horns could be purchased. They were arrested while carrying R100,000 (USD $13,963), allegedly for the purpose of acquiring the horns.
The bail amounts were R80,000 ($11,171) for Malek – believed to be the "mastermind" – and R5,000 ($698) for Jiwa. The duo is expected to appear in court on March 15th.
Root of the problem
At the root of the rhino killing scourge is the continued use of illegal rhino horn in Traditional Chinese Medicine.
Although science has thoroughly debunked rhino horn's alleged efficacy as a remedy, the demand for rhino horn continues unabated in the consumer markets of China and Vietnam.
In South Africa, the escalating trade in illegal rhino horn is compounded by greed and corruption from unscrupulous members of the wildlife conservation community.
And while the R100,000/$13,963 sum in the Louis Trichardt arrest may seem considerable, the price of rhino horn climbs much higher after leaving the African continent.
On the Vietnamese market, illegal rhino horn can fetch USD $40,000 per kilogram and in China, the price soars to $60,000 per kilogram. Average weights for black rhino horns are three kilograms, and five and a half for white rhino horns.
Slaughter continues
During 2010, 333 rhinos were slaughtered in South Africa, and 2011's death toll is rising.
Some of the killings have been noted here, such as last month's tragedy in the Western Cape, where a rhino was darted and overdosed at Botlierskop Private Game Reserve.
Just a few days earlier, a rhino was murdered in the Willem Pretorius Game Reserve, near the town of Senekal, in South Africa's Free State Province.
Also in January, a rhino was killed in KwaZulu-Natal. Prior to that, two rhinos were murdered in Kruger National Park, a pregnant rhino was slaughtered in the Hoedspruit area, and another near Musina. Still another was killed in the Eastern Cape, at Kariega Game Reserve near Kenton-on-Sea.
In addition, at least seven rhinos have been gunned down in Zimbabwe. Two rhinos have been killed in protected areas within India – one in Orang, and the other in Kaziranga National Park.
The year's first tragedy occurred in Nepal.
---
Source: "Two S African Indians nabbed for illegal rhino horn deal." MSN News. 19 February 2011
Image: istockphoto.com