Thieves have targeted an Essex auction house for its mounted rhino horn trophy.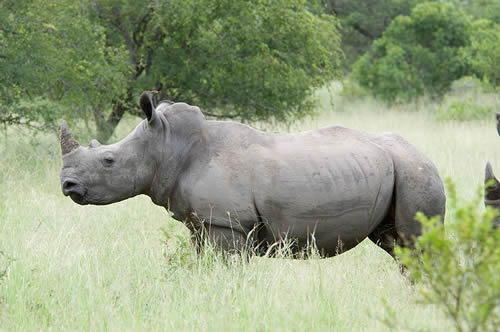 Just days after the UK instituted a total ban on the sale of antique rhino horn trophies, Sworder's Auctioneers became the scene of the latest rhino-related crime: The theft of a mounted black rhino head.
The sale of antique rhino horn trophies was declared illegal in the UK in response to an alarming number of buyers from the Far East. Investigators determined that these individuals were paying unprecedented prices for mounted rhino horn, with the intention of exporting the horns and having them manufactured into Traditional Chinese Medicines.
According to Nick Thompson of the Saffron Waldon Reporter, the auction house's alarm was set off at around 8:15 on Monday evening and no other items were reported missing.
Apparently, the rhino trophy was discovered for sale on the Sworder's Auctioneers website.
The rhino head had a value in excess of £50,000 and if sold into the traditional medicine market, of a far greater value.
Last year, a buyer from mainland China paid a record £106,000 (USD $164,046) for a mounted rhino horn trophy.
UK issues total ban on sale of mounted rhino horn
On February 18th, the European Commission issued a serious crackdown on abuse of legal trade loopholes by making it illegal to sell antique rhino horn trophies and mounted rhino horns in the UK.
The newly implemented EC guidance states that a rhino horn mounted on a plaque, shield or other type of base has not been sufficiently altered from its natural state to be included in the derogation for 'worked' specimens in Article 2(w) of the EC Regulations (the 'antiques derogation').
Earlier attempts made by the UK CITES management authorities in to tighten controls on rhino horn trade were not sufficient, as Chinese buyers quickly found a loophole.
Caroline Rigg, office manager at the Wildlife Licensing Unit, conceded that a loophole quickly exploited by Chinese buyers was the derogation that exports of mounted horn were permitted if the item was being moved alongside other personal effects or as part of a family relocation.
Sworder's Auctioneers has yet to remove several antique rhino horn offerings from their website, as of February 22nd.
Laundering rhino horn
Legalized trade in endangered species, such as rhino horn, often ends up being used as a smokescreen by dealers and traders who forge paperwork and launder illegal wildlife products. For example, South African trophy hunts have become a common way to launder illegal rhino horn.
Regarding antiques and taxidermy items, rhino horn dealers profit by selling legally acquired products for processing into traditional medicines. Rhino horn is in still high demand for use in traditional medicines in China and Vietnam, despite the fact that rhino horn has been extensively analyzed and actually contains no medicinal properties.
Although science has debunked rhino horn's alleged efficacy as a remedy, the price of illegal rhino horn in the Vietnamese market can reach USD $40,000 per kilogram and in China, the price soars to $60,000 per kilogram. Average weights for black rhino horns are three kilograms, and five and a half for white rhino horns.
In 2010, CITES warned that antique rhino horn leaking into the illegal market could have serious consequences for the eventual consumer, since the use of arsenic was a common practice in older trophy preparations.
---
Sources: "Rhino head stolen by thieves." Saffron Walden Reporter. 22 February 2011
"New rules make it illegal to trade rhino horns in the UK." Department for Environment, Food and Rural Affairs. 18 February 2011
Image: Wikimedia Commons