A rhino killing attempt has been thwarted.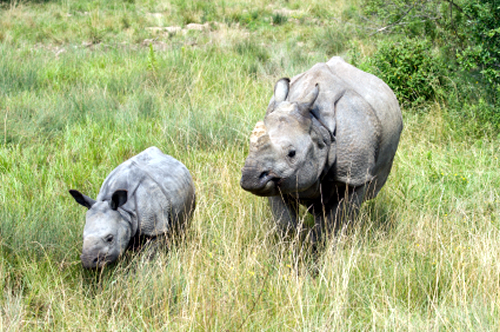 A joint patrol team of Bardia National Park and the Nepal Army prevailed after rhino poachers opened fire on the patrol unit. One rhino poacher was shot dead when the team retaliated in self-defense, and another was arrested.
The suspect taken into custody is a soldier in the Nepal Army, and he is being held by the Park authorities for interrogation.
Bardia National Park is home to 25 greater one-horned rhinos, including two baby rhinos born in the Park last year. There have been no rhinos killed in Bardia since the capture of a notorious rhino poaching gang in 2008.
In addition to Park patrols, there are 18 Nepal Army posts inside Bardia.
Nepal has already lost one rhino to the illegal rhino horn trade in 2011. The tragedy occurred during the first week of January in Chitwan National Park.
Greater one-horned rhinos in Nepal
Approximately 435 greater one-horned rhinos (Rhinoceros unicornis) reside in Nepal, within the protected areas of Chitwan National Park, Bardia National Park, and Shukla Phanta Wildlife Reserve.
Chitwan National Park also enjoyed a rhino baby boom in 2010, with the birth of eight calves.
Greater one-horned rhinos were once widespread throughout the northern floodplains and nearby foothills of the Indian sub-continent between Indo-Myanmar border in the east, and Sindh River basin, Pakistan in the west. Today, the remaining 2,850 greater one-horned rhinos are found only in a few protected areas in northeastern India and lowland Nepal.
Traditional medicine myths continue to threaten rhinos
Although the greater one-horned rhino population is steadily increasing, these rhinos remain under threat of being killed for their horn.
Despite the fact that extensive scientific analysis has confirmed that rhino horn has no medicinal properties, myths and superstitions about rhino horn persist throughout China and Vietnam, where rhino horn is considered a key ingredient of traditional Chinese medicine.
---
Sources: "Poacher killed, NA soldier nabbed." MyRepublica.com, 15 February 2011
DNPWC (2009) The Status And Distribution of The Greater One-Horned Rhino in Nepal. Department of National Parks and Wildlife Conservation, Kathmandu, Nepal.
Image: istockphoto.com