Another rhino horn smuggler is out on bail.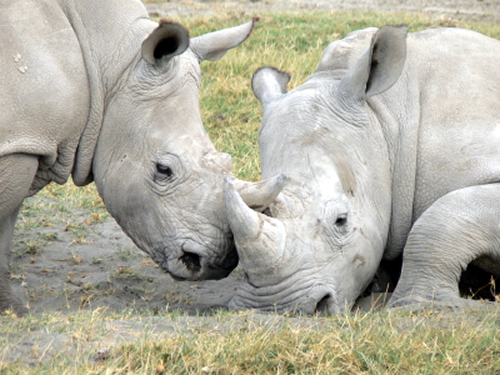 The Pretoria Magistrate's Court has reportedly released accused rhino horn smuggler Tran Thu Hien on R40,000 (USD $5,483) bail. Tran, along with her companion Phuong Huynh Phat, were arrested at the Wonderboom Airport in late January, when a search revealed four rhino horns in their luggage.
The horns were from two rhinos that Tran and Phuong apparently killed on a legal hunt which took place on a farm in Limpopo Province. However, it is illegal to transport rhino horns unless they are properly mounted by a taxidermist and microchipped.
Photos of Tran Thu Hien can be viewed here.
Legal trade loopholes
Wildlife trade investigators have linked South Africa's trophy hunt loopholes to Vietnamese rhino horn smugglers.
For example, in 2003, CITES permits were issued for nine rhino trophies and two rhino horns to be exported to Vietnam, a country that had not previously been active in trophy hunting.
What followed was alarming: The number of rhino horn exports to Vietnam suddenly increased to 58 in 2006, 73 in 2007 – until a total of 268 rhino horns were reported for the period 2006 – 2009.
However, significant reporting discrepancies were found – suggesting that the figure of 268 rhino horns was actually under-reported.
Whilst this number seems high, Vietnamese nationals reportedly conducted 203 white rhino hunts in South Africa in 2005 – 2007, which would have yielded 406 rhino horns; South African exports, however, only account for 268 horns exported to Viet Nam during this same time period, suggesting that one-third of these hunts took place without the subsequent acquisition of CITES documents.
Additionally, investigations in South Africa found other issues involving links between Vietnamese nationals and trophy hunt operators.
The frequent involvement of a small number of Vietnamese nationals, often on the same game ranches repeatedly; numerous cases whereby Vietnamese "trophy hunters" paid above market price for rhino hunts, but then had to be instructed how to shoot and would completely forego any proper trophy preparation; the issuance of export permits for rhino trophies to Vietnamese nationals who had previously been identified in ongoing rhino crime investigations …
Even Vietnamese embassy officials in South Africa have been involved in rhino horn trafficking.
Vietnamese 'rhino hunters'
Earlier this month, Mossel Bay hunter Christaan Frederik van Wyk was ordered to pay a fine of R30,000 (US $4,246) for illegally shooting a white rhino. The conviction stemmed from a hunting expedition with a Vietnamese client (Nguyen Tien Hoang) in Leshoka Thabang Game Lodge, on April 27th, 2006.
A December 2010 article in Bloomberg noted that South African hunter Peter Thormahlen had at least two earlier brushes with the law regarding Vietnamese hunting clients.
Even Peter Thormahlen has been prosecuted for leading hunts feeding the horn trade. In 2006 at the Loskop Dam Nature Game Reserve, he paid a token fine after his Vietnamese hunter casually told an official that he did not know how to shoot.

The second time, in Limpopo province in 2008, Thormahlen was indignant and fought the citation in court with the help of lawyer Tom Dreyer.
Thormahlen's second case, however, was dismissed.
In July 2010, a Vietnamese court sentenced Tran Van Lap of Hanoi to three years in jail for attempting to transport five rhino horns from South Africa to Vietnam.
It is noteworthy that four of the horns were obtained by Lap via a legal rhino hunt – however, authorities suspected that the documentation had been falsified.
Continued use of illegal rhino horn in traditional 'medicines'
At the root of the rhino crisis is the continued use of rhino horn in traditional Chinese medicine.
Illegal rhino horn is in highly sought after for use in traditional medicines in China and Vietnam, despite the fact rhino horn has been extensively analyzed and contains no medicinal properties.
Research conducted by the wildlife trade monitoring network TRAFFIC revealed that most rhino horns leaving Southern Africa are being smuggled to China and Vietnam.
In Vietnam, a wildlife trade researcher found that rhino horn could command USD $40, 000 per kilogram. Other sources, including a 2008 Chinese research publication, suggest that the price could be even higher in China, perhaps as high as USD $60, 000 per kilogram.1
Average weights for rhino horns are three kilograms for black rhinos, and five and half for white rhinos.
---
Source: "Two Vietnamese in trouble with horns." Zoutnet. 04 February 2011
Image: istockphoto.com
Other references:
1. Yanyan, D., Qian, J. (2008). Proposal for Protection of the Rhinoceros and the Sustainable Use of Rhinoceros Horn. State Soft Sciences Project, Development Strategy for Traditional Chinese Medicine Research