Yet another innocent life cut short by the illegal trade in rhino horn.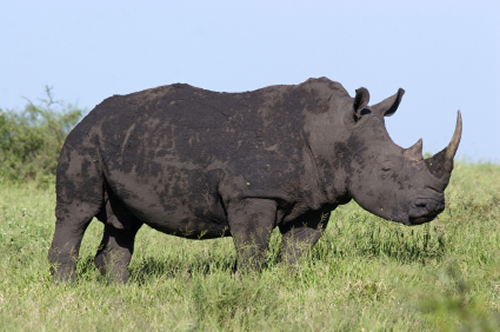 The Botlierskop Private Game Reserve near Mossel Bay was the scene of South Africa's latest rhino atrocity on Thursday, when a male white rhino was found dead. He had been darted and overdosed with the veterinary drug M99 (Etorphine), and both horns were missing.
This killing was at least the eighth in South Africa since the start of 2011, and the first in the Western Cape this year.
Tragic start to 2011
During 2010, 333 rhinos were slaughtered in South Africa, and 2011 is already off to a tragic start.
The country's most recent rhino murder occurred just days ago, in the Willem Pretorius Game Reserve, near the town of Senekal, in South Africa's Free State Province.
Last week, a rhino was killed in KwaZulu-Natal. Prior to that, two rhinos were murdered in Kruger National Park, a pregnant rhino was slaughtered in the Hoedspruit area, and another near Musina. Still another was killed in the Eastern Cape, at Kariega Game Reserve near Kenton-on-Sea.
In addition, at least seven rhinos have been gunned down in Zimbabwe, one in India, and another in Nepal.
Deadly dose
Not only are South Africa's rhinos being gunned down with AK-47 assault rifles, they are frequently killed with lethal doses of the drug M99 (Etorphine). Chemically related to morphine, M99 is used in the veterinary and game capture industries for immobilizing large animals, including rhinos.
In South Africa and most other countries, M99 is a strictly controlled drug which is supplied only to registered veterinarians.
But are legal – or illegal – stocks of this drug being used by rhino horn syndicates?
During the last five months, at least three South African wildlife veterinarians have indeed been arrested in connection to rhino horn crimes.
Dr. Karel Toet and Dr. Manie du Plessis of the Nylstroom animal clinic were arrested in September 2010 for alleged involvement with a rhino horn syndicate, and Dr. Andre Charles Uys was arrested earlier this month for suspected ties to rhino horn trafficking.
Inside jobs
However, a few unscrupulous veterinarians are not the only wildlife industry insiders arrested for rhino horn crimes.
Other high-profile individuals from within the South African conservation community have been busted for cashing in on the ignorance and myths surrounding the use of rhino horn.
Besides the aforementioned arrest of veterinarian Dr. Andre Charles Uys, Mossel Bay hunter Christaan Frederik van Wyk was arrested less than ten days ago in connection with rhino horn trafficking.
There is an in-depth look at this disturbing topic at Are 'Insiders' Intentionally Fueling Demand for Illegal Rhino Horn?, which notes that nefarious business alliances, loophole abuse, private stockpile leakage, dehorning scams, and legalized trade speculation are exacerbating South Africa's rhino crisis.
Continued use of illegal rhino horn in traditional 'medicines'
At the root of the rhino crisis is the continued use of rhino horn in traditional Chinese medicine.
Illegal rhino horn is in highly sought after for use in traditional medicines in China and Vietnam, despite the fact rhino horn has been extensively analyzed and contains no medicinal properties.
Research conducted by the wildlife trade monitoring network TRAFFIC revealed that most rhino horns leaving Southern Africa are being smuggled to China and Vietnam.
In Vietnam, a wildlife trade researcher found that rhino horn could command USD $40, 000 per kilogram. Other sources, including a 2008 Chinese research publication, suggest that the price could be even higher in China, perhaps as high as USD $60, 000 per kilogram.1
Average weights for rhino horns are three kilograms for black rhinos, and five and half for white rhinos.
---
Source: Anti-Poaching Intelligence Group, Southern Africa
Image: istockphoto.com
Other references:
1. Yanyan, D., Qian, J. (2008). Proposal for Protection of the Rhinoceros and the Sustainable Use of Rhinoceros Horn. State Soft Sciences Project, Development Strategy for Traditional Chinese Medicine Research