A South African hunter with prior offenses has been found guilty again.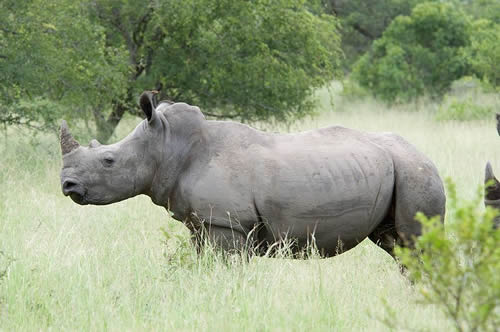 A South African court has reportedly ordered Mossel Bay hunter Christaan Frederik van Wyk to pay a fine of R30,000 (US $4,246) for illegally shooting a white rhino. Van Wyk had already been found guilty on two previous occasions for possession of rhino horn.
The punishment was handed down by the Mokopane (Potgietersrus) Regional Court in Limpopo Province, who gave van Wyk the choice of paying the fine or spending 1,000 days in jail.
According to a media release from the Endangered Wildlife Trust (EWT), van Wyk had allegedly been involved in at least three additional incidents of illegally hunting rhinos. However, Magistrate Gerhard Pretorius said sufficient proof had not been provided by the prosecution to take this into account.
Van Wyk was required to surrender a pair of rhino horns in his possession, along with the rifle used to kill the rhino. He was also barred from obtaining a hunting permit in Limpopo Province for three years, but not prohibited from applying in other provinces. His other rhino horn offenses were committed in Free State and the Western Cape.
South Africa's News24 reported that the conviction stemmed from a hunting expedition with a Vietnamese client (Nguyen Tien Hoang) in Leshoka Thabang Game Lodge, on April 27th, 2006. Van Wyk set up the trip through professional hunter Tienie Bamberger, who owns Warthog Safaris in Ellisras. Leshoka Thabang is owned by Johan van Zyl.
Bamberger received permission for the hunting trip from the owner of Leshoka Thabang, Johan van Zyl. Bamberger was not present on the day of the hunting trip and his wife, Ananya and his father accompanied Van Wyk and Nguyen.

When they found the rhino, the Vietnamese man walked away. Bamberger's wife, her father-in-law and Van Wyk shot four times at the rhino from a distance of between 50m and 100m.
The EWT referred to van Wyk's Vietnamese client as Michael Chu, and noted that he was later arrested for possession of illegal rhino horn and deported.
The hunt in 2006 at Leshoka Thabang was the first legal hunt of rhino by a Vietnamese national in the Limpopo province. However, the Vietnamese national, Michael Chu, was also later arrested by police after being found in possession of five illegal rhino horns. He was fined R40 000 and deported out of South Africa.
Vietnam and China are the primary destinations of rhino horn leaving Southern Africa.
In both countries, it is still believed that rhino horn contains curative properties, although scientific analysis has proven otherwise.
Rhino hunts and Vietnamese 'clients'
The case with van Wyk is not the first time a hunter and Vietnamese client have been linked to suspicious activities.
For the past several years, rhino horn has been finding its way to Vietnamese markets via South African trophy hunts.
Research conducted by the wildlife trade monitoring network TRAFFIC found that in 2003, CITES permits were issued for nine rhino trophies and two rhino horns to be exported to Vietnam, a country that had not previously been active in trophy hunting.
What followed was alarming: The number of rhino horn exports to Vietnam suddenly increased to 58 in 2006, 73 in 2007 – until a total of 268 rhino horns were reported for the period 2006 – 2009.
However, significant reporting discrepancies were found – suggesting that the figure of 268 rhino horns was actually under-reported.
Whilst this number seems high, Vietnamese nationals reportedly conducted 203 white rhino hunts in South Africa in 2005 – 2007, which would have yielded 406 rhino horns; South African exports, however, only account for 268 horns exported to Viet Nam during this same time period, suggesting that one-third of these hunts took place without the subsequent acquisition of CITES documents.
Additionally, investigations in South Africa found other issues involving links between Vietnamese nationals and trophy hunt operators.
The frequent involvement of a small number of Vietnamese nationals, often on the same game ranches repeatedly; numerous cases whereby Vietnamese "trophy hunters" paid above market price for rhino hunts, but then had to be instructed how to shoot and would completely forego any proper trophy preparation; the issuance of export permits for rhino trophies to Vietnamese nationals who had previously been identified in ongoing rhino crime investigations …
In a recent rhino horn smuggling case, a Vietnamese court sentenced Tran Van Lap of Hanoi to three years in jail for attempting to transport five rhino horns from South Africa to Vietnam.
It is noteworthy that four of the horns were obtained by Lap via a "legal" trophy hunt – however, authorities suspected that the documentation had been falsified.
'Insiders' involved in illegal rhino horn trade
The continued killing on African soil points to "insiders" from within the South African conservation community, who are apparently operating with unrestrained greed, hoping to cash in on the ignorance and myths surrounding the use of rhino horn.
There is an in-depth look at this disturbing topic at Are 'Insiders' Intentionally Fueling Demand for Illegal Rhino Horn?, which notes that nefarious business alliances, loophole abuse, private stockpile leakage, dehorning scams, and legalized trade speculation are exacerbating South Africa's rhino crisis.
In South Africa, 333 rhinos were slaughtered in 2010, nearly tripling 2009's total of 122. Since the start of 2011, six rhinos have been killed in the country.
In addition, one rhino has been gunned down in India, and another in Nepal.
---
Sources: "Mild Sentence for Rhino Crimes." Endangered Wildlife Trust. 20 January 2011.
"Hunter fined over rhino poaching." News24. 19 January 2011.
Milliken, T., Emslie, R.H., Talukdar, B. (2009). African and Asian Rhinoceroses – Status, Conservation and Trade. CoP15. CITES Secretariat, Geneva, Switzerland.
Image: Wikimedia Commons