A very troubling tally from the battle to protect rhinos.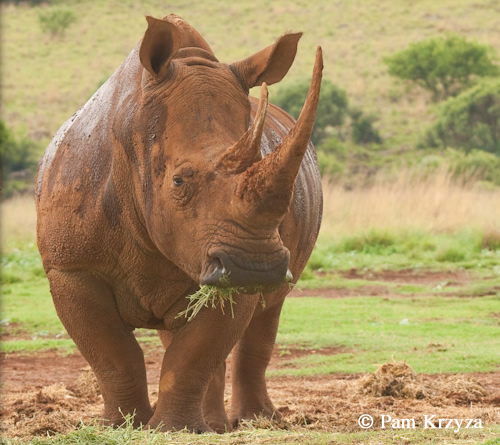 The final reported figure for rhinos illegally killed in South Africa in 2010 climbed to 333, nearly tripling 2009's death toll of 122. Over 40 percent of the killings were concentrated in the country's famed Kruger National Park.
Although 162 people were arrested in South Africa during 2010, very few were convicted or otherwise penalized for their heinous crimes.
CEO of WWF South Africa, Dr. Morné du Plessis, noted in a recent WWF press release that the government must step up deterrents, or the country's impressive rhino conservation gains will be lost.
Many more successful convictions, backed up by appropriately daunting penalties will significantly demonstrate the South African government's commitment to preventing the clouding of the country's excellent rhino conservation track record that it has built up over the past several decades.
While the public often assumes rhino "poachers" are impoverished men struggling to feed their families, this is not the current scenario in South Africa.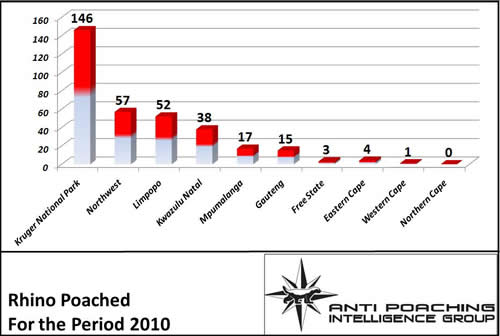 Rhinos killed in South Africa during 2010, courtesy of Anti-Poaching Intelligence Group, Southern Africa.
'Contract killing' by organized crime syndicates
The rhino crisis in South Africa today is a business of contract killings run by international organized crime syndicates, with close ties to unscrupulous members of the South African conservation community, who are cashing in on the ignorance and myths surrounding the use of rhino horn.
Some of these planned "hits" are carried out by operatives who have access to helicopters, veterinary tranquilizers, night-vision equipment, and other sophisticated tools. The murderers fly in, overdose the rhino (commonly using the veterinary tranquilizer Etorphine), hack off the horn, and lift off again – all in the matter of 15 minutes.
However, not all rhinos are downed with veterinary drugs. Foot soldiers hired to kill rhinos on behalf of these well-funded syndicates are usually armed with assault rifles.
Our counter-poaching sources in South Africa confirm that these mercenaries are typically career criminals with lengthy rap sheets, who often fire rounds on sight, forcing rangers to shoot back in self-defense.
In several cases, these men have killed rhinos while out on bail for previous rhino horn related crimes, and many are already wanted for other illegal activities.
Despite diligent intelligence work and the subsequent arrests of at least 162 people in 2010, the South African courts have so far lacked a willingness to administer effective deterrents for rhino-related crimes.
Eight rhinos already killed worldwide in 16 days
2011 is already off to a disappointing start.
In South Africa, the most recent killing occurred in KwaZulu-Natal. Prior to that, two rhinos were murdered in Kruger National Park, a pregnant rhino was slaughtered in the Hoedspruit area, and another near Musina. Still another was killed in the Eastern Cape, at Kariega Game Reserve near Kenton-on-Sea.
One rhino has been killed in Nepal and another in India, bringing the worldwide death toll to eight in just sixteen days.
Continued use of illegal rhino horn in traditional 'medicines'
At the root of the rhino crisis is the continued use of rhino horn in traditional Chinese medicine.
Illegal rhino horn is in highly sought after for use in traditional medicines in China and Vietnam, despite the fact rhino horn has been extensively analyzed and contains no medicinal properties.
Research conducted by the wildlife trade monitoring network TRAFFIC found that most rhino horns leaving Southern Africa are being smuggled to China and Vietnam.
Rhino horn prices 'soar' after leaving Africa
Although rhino poachers are said to earn as much as R25,000 per kilogram in Mozambique, and only around R30,000 per horn in South Africa, the price is far greater in rhino horn consumer countries.
Average rhino horn weights are generally calculated using three kilograms for black rhinos, and five and a half kilograms for white rhinos.
Using current exchange rates and average weights of white rhino horn, the higher Mozambique price of R25,000 per kilogram could mean nearly $20,000 US dollars (per horn) for murdering a rhino.
However, once rhino horn leaves Africa, the price soars.
In Vietnam, a wildlife trade researcher found that rhino horn could command USD $40, 000 per kilogram. Other sources, including a 2008 Chinese research publication, suggest that the price could be even higher in China, perhaps as high as USD $60, 000 per kilogram.1
Spreading Chinese footprint in Southern Africa
It has also been noted that the spreading Chinese footprint in Southern Africa has placed the demand for rhino horn perilously close to the supply, and counter poaching reports have linked the increase in rhino and elephant killings to a flood of Chinese weapons in the region.
Abuse of CITES research loopholes
There are further concerns that state-funded rhino horn use proposals from China served as one of several catalysts for the surge in rhino killings across Southern Africa.
Such proposals, which surfaced in 2008 and 2009, encourage the use of rhino horn, and strongly suggest the PRC government is attempting to circumvent CITES research provisions by blurring the lines between research and commercial trade in rhinos.
---
Photo courtesy of Pam Krzyza
Image courtesy of Anti-Poaching Intelligence Group, Southern Africa
Other references:
1. Yanyan, D., Qian, J. (2008). Proposal for Protection of the Rhinoceros and the Sustainable Use of Rhinoceros Horn. State Soft Sciences Project, Development Strategy for Traditional Chinese Medicine Research