India loses its first rhino of 2011.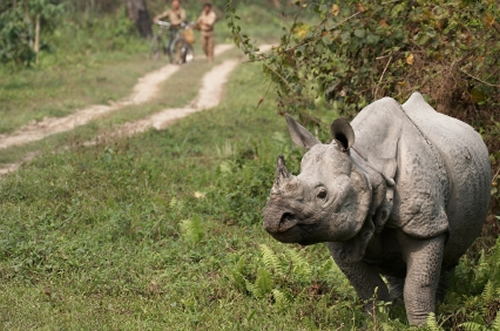 Orang National Park is tragically the site of India's first rhino killing of the year. A female rhino was shot in the dark of night, and it is believed that villagers assisted the killers by setting off firecrackers to cover the sound of gunshot.
The rhino's body, with her horn missing, was found near Kacharibhati, an area which borders the Park.
Divisional Forest Officer (DFO) Sushil Kumar Daila noted via The Telegraph that rhinos are not usually killed at night. The Park had recently intensified patrols during dusk and the early morning hours, which likely caused the killers to try a new plan.
Generally, poachers strike at dusk or in the wee hours, but last night they shot the rhino around 1:30 AM. Interestingly, only one shot was fired from a very close range. Our guards saw a faint beam of light around 1:30 AM but it was so foggy that they could not make out where it came from. The shot fired by the poachers was so precise that only one shot killed the rhino.

We are investigating in which village the crackers were burst.
In July 2010, forest guards at Orang National Park shot and killed two rhino poachers.
A month earlier, an Orang forest guard was kidnapped and brutally murdered by a poaching gang.
2011 off to a disappointing start
During the first ten days of the year, three countries have already lost at least one rhino to the illegal trade in rhino horn, for a confirmed total of five.
In addition to today's tragedy, the first rhino murder of 2011 occurred in Nepal, and three rhinos have been killed in South Africa.
Rhino poaching gangs
Rhino poaching gangs operating in Orang and Kaziranga National Parks are usually from the notorious illegal wildlife trading hub of Dimapur, Nagaland. They are often from the Karbi Anglong area as well.
To learn more about these rhino poaching gangs, check out India's Rhino Poaching Gangs: A Closer Look.
No medicinal value in rhino horn
Today, the consumer markets for illegal rhino horn are concentrated in China and Vietnam, where rhino horn is still considered a key ingredient in traditional medicines.
However, the notion of rhino horn's "healing properties" is nothing more than a persistent cultural myth. Rhino horn has been extensively analyzed and the truth is that it has no medicinal value whatsoever.
---
Source: "Rhino shot dead in Orang." The Telegraph – Calcutta. 10 January 2011.
Image: istockphoto.com