With a heavy heart, we pass along news of the first rhino killing of 2011.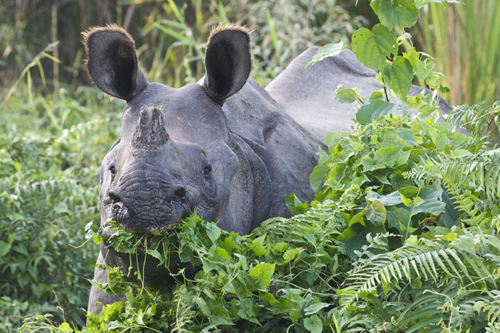 The first reported rhino murder of 2011 has occurred. Sadly, a male rhino was shot in Nepal's Chitwan National Park, and his single horn was removed.
The rhino's body was found at Dhobaha village in Madi, which borders the Park. This tragedy marks the second time in less than a month that a rhino was killed in the area.
Nepal lost at least 13 rhinos to the illegal rhino horn trade in 2010.
Greater one-horned rhinos in Nepal
Nepal is home to approximately 435 greater one-horned rhinos (Rhinoceros unicornis), who live in the protected areas of Chitwan National Park, Bardia National Park, and Shukla Phanta Wildlife Reserve.
Despite the most recent tragedy, Chitwan National Park has enjoyed a rhino baby boom with the birth of eight new calves in 2010, and two baby rhinos were born in Bardia National Park.
Greater one-horned rhinos were once widespread throughout the northern floodplains and nearby foothills of the Indian sub-continent between Indo-Myanmar border in the east, and Sindh River basin, Pakistan in the west.
Today, the remaining 2,850 greater one-horned rhinos are found only in a few protected areas in northeastern India and lowland Nepal.
Traditional medicine myths continue to threaten rhinos
Although the greater one-horned rhino population is steadily increasing, these rhinos remain under threat of being killed for their horns. Rhino horn obtained in Nepal is smuggled across the porous border areas into China.
Rhino horn has been used for centuries in traditional Chinese medicine, where it has been prescribed for a wide array of ailments, including fever, anxiety, boils – and even "devil possession".
However, extensive scientific analysis has confirmed that rhino horn actually contains no curative properties, and is of no medicinal value whatsoever.
---
Source: "Another rhino killed in Chitwan." Nepalnews.com. 04 January 2011.
Image: istockphoto.com