Yet another rhino killed to meet demand for illegal rhino horn in traditional Chinese medicine.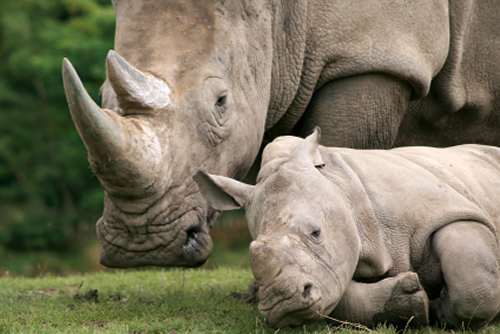 A female rhino has been found murdered in the Mafikeng Game Reserve, and her six-month-old calf is missing. Both of the mother rhino's horns had been removed. A second adult rhino was found with bullet wounds, and she is expected to survive.
This rhino was the second killed in North West Province in the last week. At least 310 rhinos in total have been slaughtered for their horns in South Africa during 2010.
Continued use of illegal rhino horn in traditional 'medicines'
Illegal rhino horn is in highly sought after for use in traditional medicines in China and Vietnam, despite the fact rhino horn has been extensively analyzed and contains no medicinal properties.
Research conducted by the wildlife trade monitoring network TRAFFIC found that most rhino horns leaving Southern Africa are being smuggled to China and Vietnam.
It has also been noted that the spreading Chinese footprint in Southern Africa has placed the demand for rhino horn perilously close to the supply, and counter poaching reports have linked the increase in rhino and elephant killings to a flood of Chinese weapons in the region.
There are further concerns that a state-funded 2008 rhino horn research proposal from China served as one of the catalysts for the surge in rhino killings across Southern Africa by encouraging the use of rhino horn, and that the researchers are attempting to circumvent CITES research provisions by farming rhinos.
'Insiders' involved in illegal rhino horn trade
The continued killing on African soil points to "insiders" from within the South African conservation community, who are apparently operating with unrestrained greed and cruelty, hoping to cash in on the ignorance and myths surrounding the use of rhino horn.
There is an in-depth look at this disturbing topic at Are 'Insiders' Intentionally Fueling Demand for Illegal Rhino Horn?, which notes that nefarious business alliances, private stockpile leakage, dehorning scams, and legalized trade speculation are exacerbating South Africa's rhino crisis.
Current system of 'bail and release' not a deterrent
It is also believed that the South African courts are a weak link in the battle to protect the country's rhinos.
Despite diligent intelligence work and the subsequent arrests of 147 people in 2010, the South African courts have repeatedly granted affordable bail amounts as "punishment" for rhino-related crimes, rather than administer serious deterrents.
---
Source: "Rhino killed in North West reserve." News24. 29 December 2010.
Image: istock.com