Unscrupulous insiders – and the 'mismanagement' of private rhino horn stockpiles – could be fueling demand for rhino horn from within South Africa.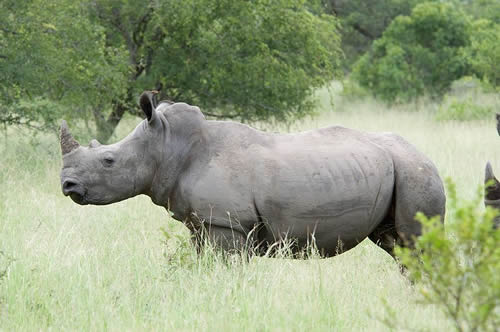 In this year alone, the surge in rhino horn demand for use in traditional medicines has claimed the lives of nearly 300 rhinos in South Africa, more than doubling the reported 2009 figure of 122. But it's not only the faraway consumers in Asia who are involved – unscrupulous people from within South Africa's rhino conservation community could be growing the market, hoping to cash in on the rhino horn myth.
Nefarious business alliances
One of the most disturbing developments in the escalating illegal rhino horn trade is the proliferation of nefarious business alliances between unscrupulous members of the South African rhino conservation community and international crime syndicates.
While several of these syndicate suspects have been arrested, the South African courts have yet to impose any serious punishment for such crimes.
In September – on World Rhino Day – eleven alleged members of a rhino horn syndicate were granted bail by the Musina magistrate's court.
The suspects included well-known safari operator and game farmer Dawie Groenewald, along with veterinarians Karel Toet and Manie du Plessis, and at least one professional hunter, Tielman Erasmus.
Investigators later unearthed a mass grave of at least 20 rhino carcasses on Groenewald's property in Musina. The findings strongly suggest that he already ran the numbers on "farming rhinos for horns" – and found the most profitable way to deal in rhino horn was to avoid upkeep costs of live rhinos.
This group is scheduled to appear in court again on April 11th, 2011.
But the "Groenewald gang" wasn't the only team of conservationists suspected of being involved with the illegal rhino horn trade.
The following month, the criminal trial of safari operators George Fletcher and Gert Saaiman, along with professional hunter Frans van Deventer raised hopes that meaningful legal action would be taken against syndicate crimes. However, the case was thrown out by the North Gauteng High Court (the State's star witness was apparently intimidated into not testifying) .
In both syndicate cases, multiple charges had been brought against the suspects, including racketeering, money laundering, various counts of theft, malicious damage to property, illegal possession of firearms and ammunition, and contraventions of the various provincial Conservation Acts, National Environmental Management Biodiversity Act, and the Aviation Act.
Private stockpiles and dehorning rhinos
Another factor which is believed to have stimulated the appetite for rhino horn, is the likely leakage of private rhino horn stockpiles from South Africa into the illegal market.
Research conducted by TRAFFIC in 2009 found that five provinces in South Africa failed to provide private stockpile data to CITES.
For the Free State, Mpumalanga, Eastern Cape, Northern Cape, and Western Cape, which collectively hold 20% of the private sector rhinos, no data were available.
TRAFFIC further noted that "significant volumes" of private rhino horn stockpiles are undocumented and vulnerable to illegal trade.
That fact, and the failure of five provinces to report private horn stocks, indicates that South Africa's control policy for rhino horns is inadequate at a time when illicit trade is escalating.
There are increasing incidents in which rhinos were dehorned under the guise of protection, when in fact, the horns were removed in order to be sold to those dealing in illegal rhino horn. One dehorning and dealing suspect apparently committed suicide while awaiting trial.
The remaining suspect, Jan Karel Pieter Els, is currently out on bail and expected in court on January 28th, 2011.
Another individual suspected of the "dehorning and dealing" scam is game caputurer Coena Smith.
According to the Mail & Guardian, Smith is facing two charges of dealing in rhino horn. His next court appearance is scheduled for February 2011 in the Modimolle's District Court.
Smith claims that he was "set up" and was legally storing the rhino horns. However, authorities discovered that the horns were missing during a raid on the suspect's farm in February, and allege that Smith sold the horns illegally.
Smith was quoted as saying he believed that rhino poaching would stop if game farmers could sell their rhino horn stockpiles legally .
Legalized trade speculation
The increased discussion favoring legalized rhino horn trade emanating not only from suspects like Coena Smith, but also from groups within South Africa, such as Wildlife Ranching South Africa is indeed a troubling development.
Unfortunately, this increased speculation – coupled with China's attempts to circumvent CITES with its "rhino farm research" – appears to be encouraging the "cheap" accumulation of illegal rhino horn (poaching), in anticipation of laundering the horn via new trade loopholes.
The CEO of WWF-South Africa, Dr. Morné du Plessis, explained that the increasing arrests of game farmers and others in the "rhino industry" illustrates the fact that legal rhino trade is likely to serve as a laundering vehicle for illegal rhino horn.
TRAFFIC's research into South Africa's private stockpile shortfalls also concluded that undeclared rhino horn was already moving into illegal markets.
More knowledge and control over private sector rhinos and rhino horn stocks in South Africa is critically needed for rhino conservation.
And wildlife conservation expert Mark Jones of Care for the Wild International noted via BBC News that legalized trade in endangered species products would stimulate the demand and make an already precarious situation worse.
The video below offers a closer look at how "legal" trade and "farming" of endangered species stimulates demand, puts increased pressure on wild populations, and serves as a laundering vehicle for illegal trade:
Continued use of illegal rhino horn in traditional 'medicines'
Illegal rhino horn is in highly sought after for use in traditional medicines in China and Vietnam, despite the fact rhino horn has been extensively analyzed and contains no medicinal properties.
Research conducted by the wildlife trade monitoring network TRAFFIC found that most rhino horns leaving Southern Africa are being smuggled to China and Vietnam.
It has also been noted that the spreading Chinese footprint in Southern Africa has placed the demand for rhino horn perilously close to the supply, and counter poaching reports have linked the increase in rhino and elephant killings to a flood of Chinese weapons in the region.
There are further concerns that a state-funded 2008 rhino horn research proposal from China served as one of the catalysts for the surge in rhino killings across Southern Africa by encouraging the use of rhino horn, and that the researchers are attempting to circumvent CITES research provisions by farming rhinos.
---
Sources:
Milliken, T., Emslie, R.H., Talukdar, B. (2009). African and Asian Rhinoceroses – Status, Conservation and Trade. CoP15. CITES Secretariat, Geneva, Switzerland.
"Rhino Killings: More Queries than Answers" Mail & Guardian Online: The Smart News Source. 26 Nov. 2010.
Larson, R. (2010). Rhino Killings on the Rise: A troubling correlation between rhino killings and the spreading Chinese footprint in Southern Africa. Saving Rhinos LLC, San Francisco, USA.
Image: Wikimedia Commons