Irish authorities acted quickly to prevent an unauthorized sale of antique rhino horn.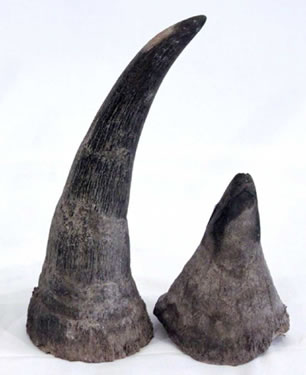 Officials from Ireland's Department of the Environment have reportedly confiscated four black rhino horns that were about to be sold by an antiques gallery. The horns were discovered in the gallery's advertisement section.
After reviewing the photographs that were posted in the ad, staff from the National Parks and Wildlife Service (NPWS) paid a visit to Mealy's Auctioneers in Castlecomer.
According to the Irish Times, auctioneer George Mealy was initially reluctant to turn in the rhino horns. He reportedly claimed that Customs and Excise had informed him there were "no restrictions" on dealing in antique rhino horn, and that the horns belonged to a man whose father acquired them over 100 years ago, during the Boer War in South Africa.
However, when an officer from NPWS accompanied by Gardai (Ireland's National Police) returned with a district court order, the rhino horns were handed over.
Officials explained that the owner of the horns could apply to have the rhino horns returned, but could not sell them.
The Department of the Environment, which is responsible for the NPWS, said that the owner could apply for a certificate which might enable him to have the horns returned but not to be offered for sale.
Following the incident, Mealy's Auctioneers quickly updated their website, noting that "lots 646 and 647 have been withdrawn" from the November 30th and December 1st sale.
Rhino horn buyers from Ireland
Earlier this month, two rhino horn buyers were arrested in the US when they attempted to purchase rhino horns during an undercover operation.
The pair had allegedly traveled from Ireland to Colorado and paid USD $17,000 to federal agents – a "bargain" price, considering our research has found that illegal rhino horn is valued at $15,000 – $40,000 per kg. The average horn weight for black rhinos is around 2.88 kg and 3.68 kg for white rhinos.
Illegal rhino horn trade infiltrates US, Europe and UK
The illegal rhino horn trade has extended its reach to antique rhino horn items, such as libation cups and trophies.
In an earlier article, Legalized Trade in Rhino Horn: Solution or Smokescreen?, I noted that a recent perusal of the U.S.-based Taxidermy.net's public forum revealed that several members have been contacted by "suspicious" buyers who were posing as representatives seeking African trophies – rhino horn in particular – for castles or museums.
Members reported receiving the following email from a "John Sullivan" seeking a rhino head mount for the grand opening of a hotel:
Hi, this is john Sullivan here from Ireland, I'm having a grand theme opening of an African seen here in my hotel in Kerry,Ireland.The thing is I'm having grate trouble in locating a real rhino head or horn in Ireland and a local taxidermy told me to email u on the off chance that u might be able to locate this item for me or refer some person or company or even auction that might have one for sale,it has to be the real item and not a fiberglass reproduction. It would be very much appreciated if u could get back to me with good news within a week or 2 as the grand opening will be on 4/sep/2010 and we really need this item.
One member warned about a phone call:
I got your number off taxidermy net. I am from Ireland but live in Brazil. I am looking to buy African mounts and horns and capes, especially a rhino. I have lots of money and can pay cash.
In July, the European Taxidermy Federation (ETF) issued a warning to its members regarding similar activity.
The buyers claim that they are from Ireland or Great Britain and that they have a friend or customer who has a castle, museum or hotel where they want to build up a collection of African trophies. However, it appears that their primary interest is in rhino horn.
Less than a month ago, concerns about illegal activities stemming from legal rhino horn sales prompted UK authorities to tighten regulations for the second time in as many months.
In the UK, it is now illegal to sell, or advertise for sale, any rhino horn item without advance clearance by the UK CITES Management Authority. In addition, rhino horn export applications will be approved only if certain conditions are met.
Laundering rhino horn
Legalized trade in endangered species, such as rhino horn, often ends up being used as a smokescreen by dealers and traders who forge paperwork and launder illegal wildlife products.
In the case of antiques and taxidermy items, rhino horn dealers profit by selling "legally" acquired products for processing into traditional medicines. Rhino horn is in high demand for use in traditional medicines in China and Vietnam, despite the fact that rhino horn has been extensively analyzed and actually contains no medicinal properties.
CITES warned earlier this year that antique rhino horn leaking into the illegal market could have serious consequences for the eventual consumer, since the use of arsenic was a common practice in older trophy preparations.
---
Source: "Rare Rhino Horns Seized from Auctioneers." The Irish Times. 24 Nov. 2010.
Images via Mealy's Auctioneers