More questions than answers surround the findings at a Limpopo game reserve.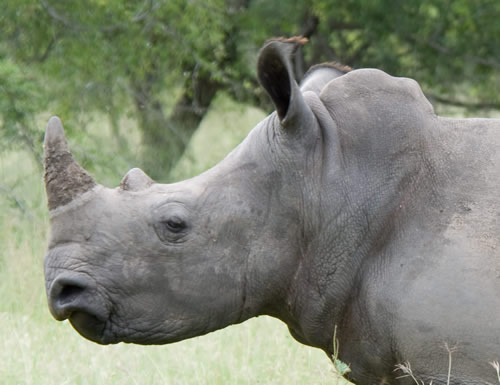 In 2003, six white rhinos were released into the Makuya Game Reserve. But today, disturbing reports indicate that the reserve has no rhinos left.
According to intelligence sources, there have been no reports of rhinos illegally killed in the reserve, which is situated on the western boundary of the Makuleke region of Kruger National Park.
However, the latest ground surveys have found no living rhinos in the reserve – and no carcasses, either.
It was also reported that the reserve's rhino "middens" (dung piles that rhinos use to communicate with each other) have not been used for at least two years.
At this time there are no rhino left on the reserve. Middens are dead and have been so for the last couple of years.
There are concerns that another "Letaba situation" could be developing, in which 18 (initially thought to be 17) rhino carcasses were found dumped near Tzaneen.
At this time, there are still no definitive answers regarding the shocking discovery at Letaba Lodge.
Courts fail to deter rhino horn syndicates
Although police continue to make arrests – four rhino killers were recently arrested – rhino horn syndicate cases lose steam once they hit the courts. There seems to be plenty of talk about cracking down on syndicates and taking out the kingpins, but so far, the courts have jailed only the lower level operatives.
In September, eleven alleged members of a rhino horn syndicate were granted bail by the Musina magistrate's court and are scheduled to appear in court again on April 11th, 2011. The suspects included safari operator Dawie Groenewald, veterinarians Karel Toet and Manie du Plessis, and professional hunter Tielman Erasmus.
They will face charges of to face charges of assault, fraud, corruption, malicious damage to property, illegal possession of firearms and ammunition, and contravening the National Environmental Management Biodiversity Act.
The following month, a rhino horn syndicate case involving suspects George Fletcher of Sandurst Safaris, Gert Saaiman of Saaiman Hunting Safaris, and Frans Deventer was thrown out by the North Gauteng High Court.
Multiple charges had been brought against Fletcher, Saaiman and van Deventer, including racketeering, money laundering, various counts of theft, malicious damage to property and contraventions of the various provincial Conservation Acts and the Aviation Act.
However, a few weeks ago, four Zimbabweans and a Mozambican were sentenced to prison for attempting to kill rhinos in Lephalale Game Reserve, Limpopo.
Illegal rhino horn trade driven by continued use of traditional 'medicines'
In this year alone, the surge in rhino horn demand for use in traditional medicines has claimed the lives of at least 280 rhinos in South Africa, more than doubling the reported 2009 figure of 122. Zimbabwe is now down to its last 700 rhinos.
Illegal rhino horn is in highly sought after for use in traditional medicines in China and Vietnam, despite the fact rhino horn has been extensively analyzed and contains no medicinal properties.
Research conducted by the wildlife trade monitoring network TRAFFIC found that most rhino horns leaving South Africa are being smuggled to China and Vietnam.
It has been noted that the spreading Chinese footprint has placed the demand for rhino horn perilously close to the supply, and counter poaching reports have also linked the increase in rhino and elephant killings to a flood of Chinese weapons in Southern Africa.
There are concerns that a state-funded 2008 rhino horn research proposal from China served as one of the catalysts for the surge in rhino killings across Southern Africa by encouraging the use of rhino horn, and that the researchers are attempting to circumvent CITES research provisions by farming rhinos.
---
Source: Personal communication.
Image: Wikimedia Commons