Zimbabwe's rhinos continue to struggle against the demand for rhino horn.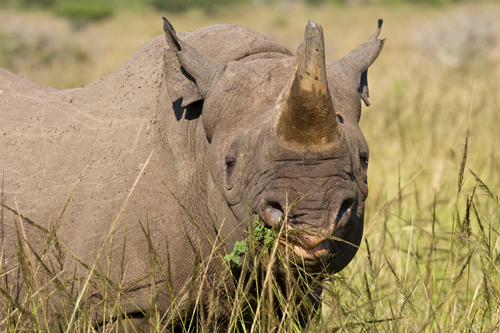 The rhino killing epidemic of Southern Africa has hit Zimbabwe hard, and it is now estimated that only around 700 rhinos remain in the country. Decades of rhino conservation are at serious risk of being undermined by crime syndicates funded by the demand for illegal rhino horn, which is still used in traditional Chinese medicines.
Last year, the wildlife trade monitoring network TRAFFIC found that Zimbabwe lost over 25 percent of its rhino population between 2006 and 2009 to illegal killing. This troubling figure includes 89 percent of all black rhinos killed on the continent.
The seriousness of the current situation in Zimbabwe is again evident in the fact that losses since 2006 represent 26% of the living rhino population, and 89% of all black rhinos killed in Africa since 2006.
Just a few days ago, another one of Zimbabwe's critically endangered black rhino was brutally slaughtered as he drank from a watering hole.
Conservationists step up the fight against rampant rhino killings in Zimbabwe
Various tactics are being deployed, such as arming anti-poaching patrols in some areas with AK-47s and taking a hard line stance against heavily armed killers.
Zimbabwe's rhino poachers use military-style organization and deadly force in their quest to gun down rhinos.
In Zimbabwe, where just 700 rhinos remain, anti-poaching units face military-like armed gangs who ruthlessly shoot the animals to hack off the distinctive horns for the Asian traditional medicine market.
Raoul du Toit of the Lowveld Rhino Trust, which operates in Zimbabwe's arid southeast, said via AFP that these career criminals think nothing of killing the people who get in their way.
These poachers in this part of the world here will shoot on sight. They operate in very aggressive units.

They adopt patrol formations when they are after rhinos to detect any anti-poaching units that are deployed against them and they will open fire without hesitation.
He also explained that rhinos are being de-horned, in an effort to make them less attractive to the thugs on syndicate payrolls.
De-horning reduces the reward for the poacher. Poaching is a balance between reward and risk. It may tip the economic equation in the situation to one where it's not worth the poacher operating.
The Zimbabwe Parks and Wildlife Management Authority is said to have a five-tonne stockpile of rhino horns in Harare, which raises additional concerns, stemming from allegations in 2008 that the Zimbabwe government traded 3.5 tonnes of stockpiled ivory for Chinese weapons.
It is hoped the tough anti-poaching stance combined with de-horning efforts will be enough to slow the losses.
Under its Crisis Zimbabwe program, US-based International Rhino Foundation translocated 22 rhinos from high-risk areas to safer, undisclosed locations in Zimbabwe in 2009.
Zimbabwe rhino killings aided by corruption
Zimbabwe's escalating rhino losses prompted CITES to consider expelling the country last year, after an investigation found that political officials were involved in widespread killing of wildlife, especially in Gonarezhou and Hwange National Parks. The Times Live was just one of several sources which reported the scandal.
At a news conference in Harare, Willem Wijnstekers, secretary-general of the U.N. Convention on International Trade in Endangered Species, said security forces had killed about 200 rhinos over the past two years, putting that population on the verge of extinction in Zimbabwe.
And according to allAfrica.com in July 2009, court documents implicating Zanu PF politicians went missing.
The two politicians have been saved from prosecution after the dockets "mysteriously disappeared" from the magistrates' court recently. Judicial sources said yesterday the dockets were too hot to handle.
It was noted by TRAFFIC that Zimbabwe's conviction rate for rhino-related crimes has been an abysmal three percent.
Illegal rhino horn smuggled to China and Vietnam
Rhino horn is in high demand for use in traditional medicines in China and Vietnam, despite the fact rhino horn has been extensively analyzed and contains no medicinal properties.
Research conducted by the wildlife trade monitoring network TRAFFIC found that most rhino horns leaving southern Africa are being smuggled to China and Vietnam.
---
Sources: Zim Daily; Times Live; allAfrica.com; AFP
Image: istock.com