Three dozen rhinos were purchased by an alleged rhino horn syndicate member.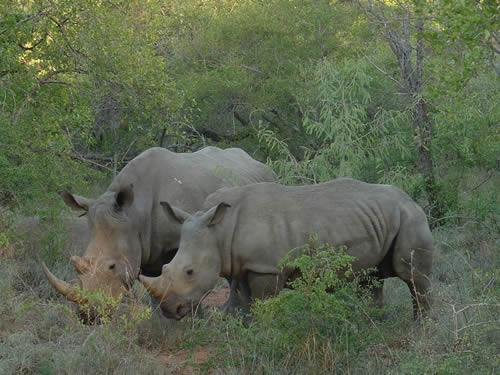 Alleged rhino horn syndicate member Dawie Groenewald reportedly purchased 36 rhinos during June and July 2009. Three weeks ago, investigators discovered a mass grave of 20 rhinos on Groenewald's property in Musina.
It is suspected that Groenewald – dubbed "the butcher of Pragtig" – purchased the rhinos at auction in order to sell their horns, then simply slaughtered them, to avoid reducing his profit margin with the upkeep expenses of live rhinos.
The rhinos were purchased from South African National Parks (SANParks). A SANParks spokesperson said earlier that they stopped selling game to Groenewald when he was found guilty of exporting an illegally hunted leopard to the US, where he spent eight days in jail.
SANParks explained that the sale was not out of the ordinary.
SANParks said there was nothing unusual about the sale and it could not have known Groenewald would be implicated in poaching, when asked about the document.

SANParks has defended the sale saying it was not unprecedented. But it said it is reviewing the entire procedure and plans to improve the vetting process.
Groenewald was arrested in September and was released on R1 million bail.
Eleven alleged rhino crime syndicate members, including Groenewald, are scheduled to appear in court again on April 11th, 2011, to face charges of assault, fraud, corruption, malicious damage to property, illegal possession of firearms and ammunition, and contravening the National Environmental Management Biodiversity Act.
Illegal rhino horn business 'booming'
Rhino poaching has returned to South Africa with a vengeance and the illegal rhino horn business is booming. The killing has reached a 16-year high, with more than 600 rhinos slaughtered since 2005.
Well-funded rhino horn syndicates maintain an extensive network of accomplices, and have managed to recruit game farmers, professional hunters, and even veterinarians into the gruesome business.
Illegal rhino horn is still in high demand for traditional medicines in China and Vietnam, despite the fact that rhino horn has been extensively analyzed and found to be of no medicinal value.
Most rhino horn leaving southern Africa is destined for China and Vietnam, according to the latest research by TRAFFIC, the wildlife trade monitoring network.
---
Source: iafrica.com