The demand for rhino horn in 'traditional Chinese medicine' has claimed the life of another critically endangered black rhino in Zimbabwe.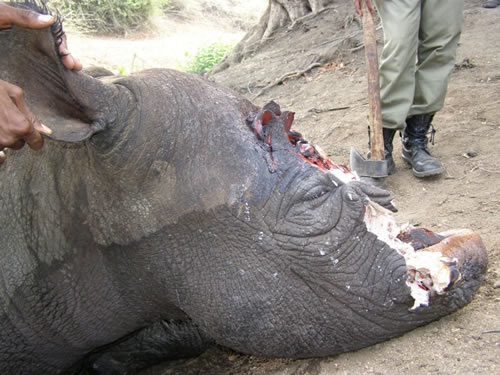 This black rhino bull was shot in the brain yesterday while he drank from a watering hole in Zimbabwe. The wildlife trade monitoring network TRAFFIC reports that rhino horn is now leaving southern Africa within hours of being obtained. By now, this rhino's horns are on their way to China or perhaps Vietnam.
In this horrific case, the only consolation is the fact that he was killed instantly. He fell with his nose in the pool where he was drinking. In some killing attempts, the poachers axe the rhino's spine to keep it from struggling, while they hack off the horns.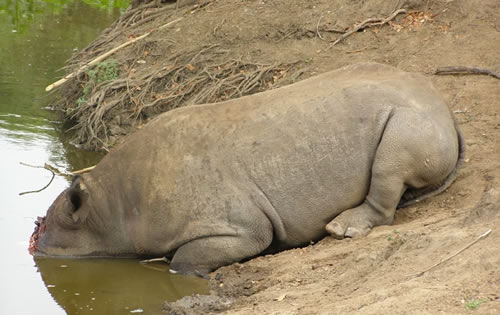 The sheer brutality of this attack is beyond comprehension. The rhino's left eye was completely destroyed, along with his upper jaw. You can see the lower jaw here, with his tongue exposed.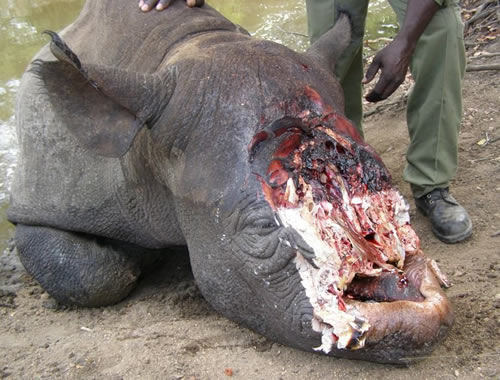 Illegal rhino horn smuggled to China and Vietnam
The surge in demand for rhino horn is threatening to undermine decades of conservation efforts in southern Africa. More than 600 rhinos have been slaughtered for their horns since 2005.
By 2009, the illegal rhino horn trade had claimed 25 percent of Zimbabwe's rhino population in just three years.
Rhino horn is in high demand for use in traditional medicines in China and Vietnam, despite the fact rhino horn has been extensively analyzed and contains no medicinal properties.
Research conducted by the wildlife trade monitoring network TRAFFIC found that most rhino horns leaving southern Africa are being smuggled to China and Vietnam.
---
Source: Personal communication, photos used with permission.