Longer jail terms may be in store for rhino killers who try to do business in Nepal.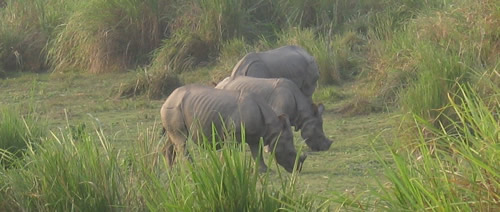 A Supreme Court panel in Nepal has recommended increasing the minimum jail sentence for rhino poaching from five years to 12 years.
According to The Himalayan Times, Justices Bala Ram KC and Mohan Prasad Sitaula issued a report calling for longer minimum jail terms, stronger security and replacement of police posts in national parks. However, the maximum 15-year jail sentence appears to be unchallenged.
A division bench of Justices Bala Ram KC and Mohan Prasad Sitaula today issued a verdict … to increase the duration of minimum jail term for the poachers to 12 years from the existing five years in keeping with the SC-formed panel's report. The report, though, has not recommended increasing the maximum jail term of 15 years.

The writ demands reestablishment of police posts displaced during the 11-year conflict and stepped up security arrangements in national parks to give the endangered species a better chance to survive.
Compensation for farmers whose crops are damaged by rhinos was also suggested.
In its report, the panel under Gopal Prasad Upadhayay, director general of the Department of National Parks and Wild Life Conservation, has suggested compensating the farmers whose crops the rhinos destroy.
The Supreme Court's writ reportedly noted that if the current rate of rhino poaching continued in Nepal, the country could lose its rhinos in ten years.
Although Nepal's rhino numbers have been increasing overall, the demand for illegal rhino horn for use in traditional Chinese medicine is never far away – despite the fact rhino horn has been thoroughly tested and found to be of no medicinal value.
Nepal is currently home to around 435 of the world's 2,850 greater one-horned rhinos (Rhinoceros unicornis).
---
Source: The Himalayan Times
Image: Wikimedia Commons