Is is acceptable to turn rhino horn into a commodity and profit from ignorance?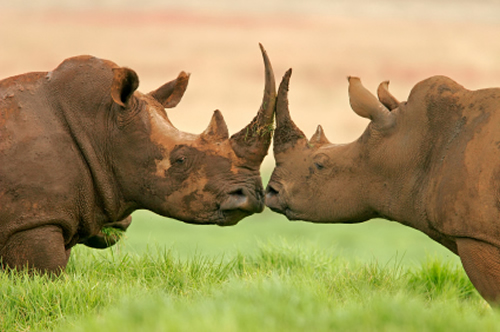 As the world begins to take a closer look at the scourge of rhino killings that is sweeping South Africa, the issue of legalized trade in rhino horn has resurfaced again.
Proponents of legalized trade in rhino horn, such as Wildlife Ranching South Africa (WRSA) argue that trade would created revenue for wildlife conservation and that it would eliminate the risk of rhinos being killed for their horns by outside syndicates.
Supporters also point out that rhino horn is a renewable resource that is in demand. They say that by keeping the trade illegal, South African game farmers are being deprived of potential income and business opportunities.
And who could blame them?
Illegal trade in rhino horn is big international business. Recently, game farmer Dawie Groenewald easily posted bail of R1 million after being arrested for his alleged involvement with a rhino crime syndicate.
Groenewald was just one more reason to make people see dollar signs in rhino horns.
He is believed to have maximized his profits by slaughtering rhinos purchased at auction after selling their horns.
The immediate impact of 'legal' sales
To get a glimpse of the possible immediate impact of legalized trade in rhino horn, take a look at CITES' fateful decision to allow a one-off sale of ivory stockpiles in 2008.
Over 10,000 dead elephants were represented by 119 tons (108 tonnes) of ivory sold to China and Japan.
The result? A whetting of the infamous Chinese appetite for ivory and the return of the dark days of widespread slaughter of elephants.
This gruesome situation is compounded by the fact that the Chinese footprint in Africa is becoming ever larger, putting the demand perilously close to the supply.
And the population of eager rhino horn "customers" is growing at a much faster rate than a rhino's horn.
Regulating legalized trade in rhinos
Another promise made by supporters of legalized trade in rhino horn is that it would be tightly controlled and strictly monitored. WRSA spokesperson Reinhardt Holtzhausen explained that legal trade in rhino horn would be strictly monitored and that private game owners would simply hand over their rhino horns to the government, in exchange for compensation.
He said the South African government would be in charge of dealing in rhino horn.
But limited legal trade in rhinos already exists – and it is indeed a far cry from being "tightly controlled" and "strictly monitored" in South Africa.
In fact, several well-known people who were recently arrested for suspected involvement in rhino crime syndicates were "legally" trading in rhinos. The suspects included game farmers, safari operators, and professional hunters.
Investigations by wildlife trade monitoring network TRAFFIC also revealed Vietnamese nationals gained access to rhino horn by posing as trophy hunting "clients" in South Africa.
The findings strongly suggest that the trophy hunt operators were aware of this pattern and were enjoying additional profits because of their clients' intentions.
Is this the appropriate environment for introducing more opportunities for regulatory abuse?
Smokescreens
Fraught with easily exploited loopholes, inconsistent monitoring, and lack of centralized controls, South Africa's existing legal trade in rhinos has already proven itself to be a smokescreen for illegal trade.
Dr. Morné du Plessis, the CEO of WWF South Africa, noted that the arrests of game farmers in the recent high profile rhino crime syndicate case illustrates the fact that legal rhino trade is likely to serve as a laundering vehicle for illegal rhino horn.
The recent string of high-profile arrests shows that people within the private game farming industry are involved in poaching. The issue is, therefore, a little more complicated than simply legalising the trade in rhino horn. For example, it would allow poachers to launder illegally gotten rhino horns.
Indeed, each series of arrests suggests there is already corruption within the rhino "conservation" community.
Myths
The notion of rhino horn as a "medicine" is nothing more than a cultural myth without any scientific basis. Rhino horn has already been extensively analyzed and found to be of no medicinal value.
Sadly, it appears that some people have become so greedy and shortsighted that they are willing to build a business enterprise that depends on exploiting myths and superstitions about rhino horn.
---
Image: istock.com