More arrests have been made in the battle to protect South Africa's rhinos from the poaching scourge.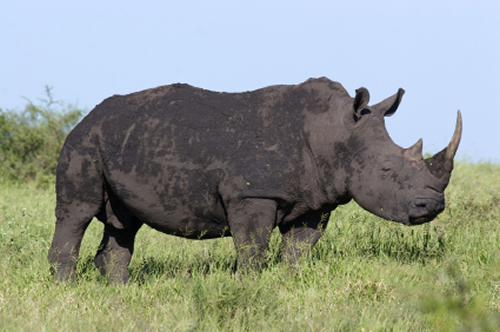 Authorities have reportedly arrested five people suspected of killing rhinos in the Ophathe Game Reserve near Ulundi. Ezemvelo KZN field rangers discovered the body of one female rhino on September 29th and another two dead rhinos were discovered the following day, all with missing horns.
Ezemvelo KZN Wildlife chief operating officer Bandile Mkhize said via News24 that the five suspects – from Mahlabathini, Hlophenkulu and eZihlabeni – were arrested over the weekend.
Six firearms – a licensed 9mm pistol, two shot guns, one of which was licensed, a .303 rifle fitted with a telescopic sight and two unlicensed .22 rifles – were also confiscated.
The five suspects are expected to appear in the Ulundi Magistrate's Court; however, neither the date nor their names have been released at this time.
Illegal rhino horn smuggled to China and Vietnam
The surge in demand for rhino horn is threatening to undermine decades of conservation efforts. More than 600 rhinos have been slaughtered for their horns since 2005.
KwaZulu-Natal has lost 17 rhinos in the country's battle to protect rhinos from syndicates who are killing the rhinos in order to cash in on Chinese and Vietnamese demand for illegal rhino horn.
Rhino horn is in high demand for use in traditional medicines in China and Vietnam, despite the fact rhino horn has been extensively analyzed and contains no medicinal properties.
Research conducted by the wildlife trade monitoring network TRAFFIC found that most rhino horns leaving South Africa are being smuggled to China and Vietnam.
Chinese trespassers arrested last year
In 2009, it was reported in The Zululand Observer that five people of Chinese origin were arrested for illegally entering the Opathe game reserve, where at least 11 rhinos were killed.
Developments regarding the OEHP incidents have since seen four men and a woman, all of Chinese origin, appear in the Babanango Magistrate's Court on Tuesday this week, following their arrest inside OEHP near Ulundi. They were found trespassing, as the reserve has been temporary closed to the public, pending the appointment of a new manager for the park. They were not asked to plead to any charges and the case was postponed pending further investigations. Those who appeared are Pingquan Ni (37), Shuiwang Wu (37), Daxin Zhang (42), Xiufu Lin (32) and Meixia Zhu (26).
Although the original article appears to have been taken offline, a published report by Animal Rights Africa, Under Siege: Rhinos in South Africa, confirms this incident.
Additional information regarding the 2009 case does not appear to be readily available.
---
Sources: News24
Animal Rights Africa (2009). Under Siege: Rhinoceroses in South Africa. Animal Rights Africa Special Report, South Africa.
Image: istock.com