Legalized trade in rhino horn: It's complicated.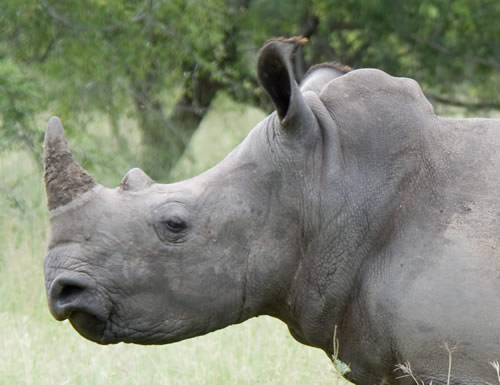 The notion of legalized trade in rhino horn has apparently failed to win the support of WWF South Africa's CEO, Morné du Plessis.
Dr. du Plessis said via South Africa's The Daily Maverick that the arrests of game farmers in the recent high profile rhino crime syndicate case illustrates the fact that legal rhino trade is likely to serve as a laundering vehicle for illegal rhino horn.
The recent string of high-profile arrests shows that people within the private game farming industry are involved in poaching. The issue is, therefore, a little more complicated than simply legalising the trade in rhino horn. For example, it would allow poachers to launder illegally gotten rhino horns.
He added that education programs were being rolled out in Asian countries known to be consumers of rhino horn, and pointed to the successful public awareness program that was implemented in Yemen several years ago.
Illegal rhino horn headed for traditional medicine markets in China and Vietnam
Although Yemen used to be a major player in the illegal rhino horn trade, the wildlife trade monitoring network TRAFFIC found that Yemen is no longer a factor, and that the majority of rhino horn leaving southern Africa is headed for China and Vietnam.
Currently, most rhino horns leaving southern Africa are destined for end-use markets in southeast and east Asia, especially Viet Nam and China. Available evidence at thisi time does not implicate Yemen, another traditional end-use market.
Despite the fact rhino horn has been extensively analyzed and found to be of no medicinal value, it is still in high demand in China and Vietnam.
According to centuries of Asian folklore, rhino horn is a treatment for pain, fever, pus-filled boils, acne, and devil possession. There is even a more recent myth circulating in Vietnam, which falsely claims rhino horn can cure cancer.
Government would be in charge of dealing in rhino horn
So far, Wildlife Ranching South Africa (WRSA) appears to be the most visible group in favor of the idea.
WRSA spokesperson Reinhardt Holtzhausen explained that legal trade in rhino horn would be strictly monitored and that private game owners would simply hand over their rhino horns to the government, in exchange for compensation.
He said the South African government would be in charge of dealing in rhino horn.
---
Source: The Daily Maverick
Image: istock.com