South African media reports that one of the eleven people accused of involvement with rhino poaching was buying live rhinos.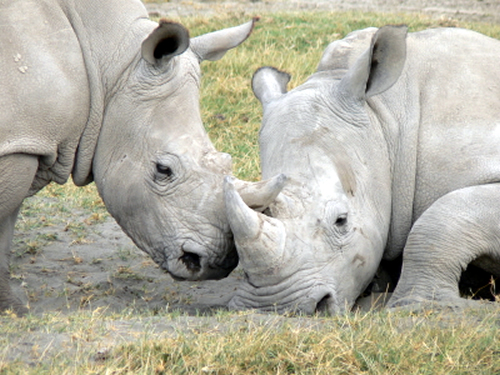 The whereabouts of between 20 and 30 rhinos purchased from Kruger National Park have raised more questions in the rhino crime syndicate case involving safari operator Dawie Groenewald.
Farm workers who were asked about Groenewald's Musina property referred to it as an "animal butchery", prompting investigators to search for the graves of rhinos slaughtered for their horns.
According to South Africa's News24, safari operator Dawie Groenewald, one of eleven alleged rhino crime syndicate members, apparently purchased between 20 and 30 rhinos from Kruger National Park.
Veterinarian Karel Toet was also allegedly involved with the transactions.
A Sanparks spokesperson confirmed that Groenewald had bought between 20 and 30 rhino from the Kruger park.

Dr Karel Toet, a vet who was also arrested, acted as a go-between and also bought rhino for Groenewald at the game reserve.

The spokesperson said they stopped selling game to Groenewald when they were informed he was earlier this year found guilty in an American court of exporting an illegally hunted leopard.
At one point, Groenewald allegedly stated that he had as many as 80 rhinos on his game farm, known as "Pragtig".
There are now reportedly only 32 rhinos on the property.
Rhino crime syndicate suspects granted bail
Groenewald, along with ten other people, was granted bail by the Musina court's magistrate Errol Luiters. The release date coincided with World Rhino Day, an event to raise awareness about South Africa's rhino poaching scourge.
Veterinarians and professional hunters are among the accused:
Sariette Groenewald – Out of Africa Adventurous Safaris
Tielman Erasmus – professional hunter
Dr. Karel Toet – Nylstroom animal clinic and Limpopo Wildlife
Marisa Toet – Nylstroom animal clinic and Limpopo Wildlife
Dr. Manie du Plessis – Nylstroom animal clinic
Marthinus Pronk
Dewald Gouws
Leon van der Merwe
Paul Matomela
Nordus Rossouw
The suspected rhino crime syndicate members are schedule to appear in court again on April 11th, 2011, to face charges of assault, fraud, corruption, malicious damage to property, illegal possession of firearms and ammunition, and contravening the National Environmental Management Biodiversity Act.
Rhino poaching at 16-year high
Rhino poaching has returned to South Africa with a vengeance. The scourge has reached a 16-year high, with more than 600 rhinos killed since 2005.
Helicopters, tranquilizer darts, and chainsaws are the tools of the trade for well-funded rhino crime syndicates. Rhinos are darted from the helicopter and then the horn is removed with a chainsaw, cutting into the rhino's skull, often while the rhino is still alive. The rhino is then left to die a slow and painful death.
Tom Millken of wildlife trade monitoring network TRAFFIC points out that technology has made it easy for a rhino horn to enter the illegal market quickly.
There are 100 million cellphones in Africa. Everyone is connected now. A guy can make a call from a game reserve and say 'I've got the horn, come pick me up'.

Then a car is (organised) to pick him up and in a day or two he can be on a flight out of the country. This was not happening years ago.
Illegal rhino horn is still in high demand for traditional medicines in China and Vietnam, despite the fact that rhino horn has been extensively analyzed and found to be of no medicinal value.
Most rhino horn leaving southern Africa is destined for China and Vietnam, according to the latest research by TRAFFIC.
---
Source: News24
Image: istock.com