Two women are among the accused members of a rhino crime syndicate.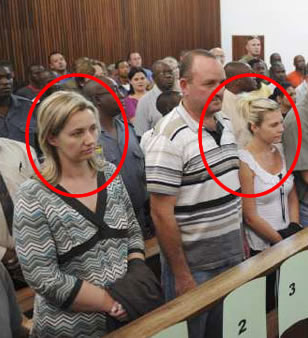 Two women, Marisa Toet and Sariette Groenewald, believed to be involved with a crime syndicate responsible for killing hundreds of rhinos in South Africa, were among eleven suspects held by police for two days prior to their September 22nd court appearance.
Along with their husbands, Dr. Karel Toet and Dawie Groenewald, the two women are suspected of running a major rhino crime syndicate in South Africa.
Marisa Toet is the wife of veterinarian Dr. Karel Toet, owner of Nylstroom animal clinic. Sariette Groenewald is married to Dawie Groenewald of Out of Africa Adventurous Safaris.
Due to construction work, the eleven suspects were held in temporary quarters at the Musina police station. Those close to the suspects noted that the two women were "traumatized" by the ordeal.
Family members said the two women are extremely traumatised after being detained in police cells for two days, according to the newspaper.

Before court proceedings on Wednesday, the accused were held in a corrugated iron building at the Musina police station in unbearable heat.

The building is used to detain accused while construction work on the court has been dragging along for about three years.
The ladies are not likely to win much sympathy from the public. The suspects' court date happened to coincide with World Rhino Day, when people all over the world took a stand against rhino poaching and the illegal trade in rhino horn.
All suspects were released on bail and are scheduled to appear in court again on April 11th, 2011.
---
Source: News24
Image via LA Times; emphasis added.