Without a wildlife care center, the staff at Chitwan National Park quite literally has its hands full with the recent rescue of orphaned rhinos.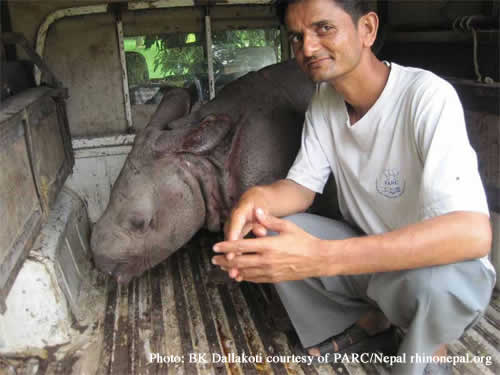 Although Nepal is a country filled with wildlife richness, orphaned and injured animals often become casualties, due to the current lack of a rescue center and veterinary care.
Recently, two baby rhinos were separated from their mothers when the Narayani River flooded during the monsoon season.
Another was orphaned when her mother was electrocuted by a fence that had been illegally set by a farmer.
Despite best efforts, many animals do not survive
Orphaned rhinos, along with other wildlife rescues, are sent to the Chitwan National Park headquarters, where the staff does their best to provide care. Sometimes, animals are transported to the small and already crowded Central Zoo in Kathmandu.
Sadly, best efforts are not always enough, and without expertise and veterinary care, orphaned and injured animals often die.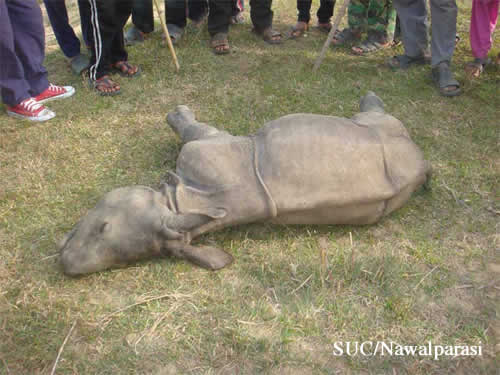 Unfortunately, this is what happened to one of the baby rhinos that was rescued from the Narayani River.
Although the tiny calf seemed fine at first, he was thought to have suffered internal injuries that could only have been diagnosed and treated by a veterinarian or other expert.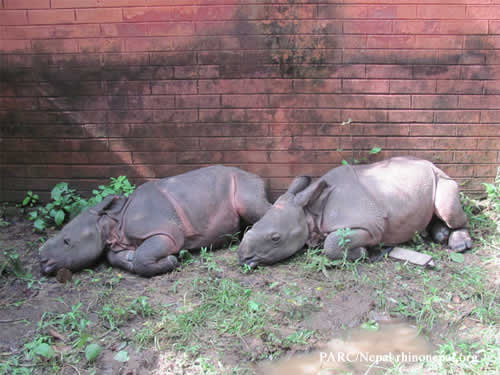 Rhinos could be saved with veterinary care
Nepal loses several rhinos yearly due to human-rhino conflict, which can manifest in electrocution (even though the setting of electric fences is illegal) and poisoning (also illegal). In addition, rhinos that survive attacks by poachers often die as a result of infected wounds from bullets and axes.
Orphaned calves quickly die without proper care.
Mr. Suman Bhattarai, conservationist and founder of Partnership for Rhino Conservation (PARC) Nepal, pointed out that while Nepal has set aside protected areas for wildlife, there is not even one wildlife treatment facility.
Although there are ten national parks, three wildlife reserves, three conservation areas and one hunting reserve in Nepal, there is no wildlife veterinary center.
Mr. Bhattarai further explained that without a rescue center, the situation will become increasingly worse for wildlife.
Many rhinos have died, due to infected wounds and orphan cases. Similarly, there were many more losses of endangered and vulnerable wildlife species, such as tigers, leopards, turtles and tortoises, deer, and golden monitor lizards, just to name a few.

If this scenario continues, Nepal will face a huge loss in wildlife biodiversity. The issues of climate change and flooding, erosion, poaching and human-wildlife conflicts are increasing year by year, so that means there will be even more cases of injured and orphaned animals.
He added that a wildlife rescue and treatment center would ensure the overall ecology of Nepal.
If enough wildlife veterinary facilities with technicians are arranged, it would provide the opportunity to increase the population of sensitive wildlife species, as well as create harmony between wildlife and the local community.

By ensuring the health of our wildlife, we ensure the healthy ecology of Nepal.
Fortunately, Mr. Bhattarai is one of Nepal's leading young conservationists who believes in taking action.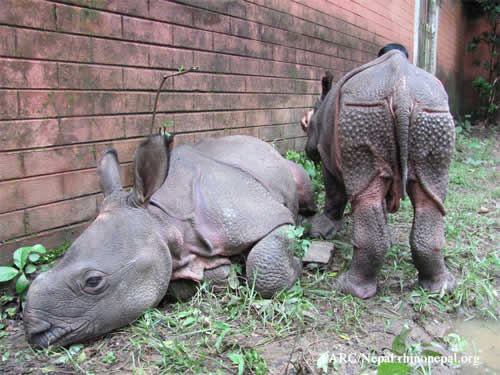 Planning for the future of Nepal's wildlife
The urgent need for a wildlife rescue and treatment center has prompted Mr. Bhattarai and his colleagues to begin exploring the possibilities.
Together with a small team (including Saving Rhinos), a plan for creating the much-needed wildlife rescue center is now in the early stages.
We will be sure to keep you posted on the developments, and information about how you can help will be coming soon.
---
Source: Suman Bhattarai, Partnership for Rhino Conservation (PARC), Nepal
Photos courtesy of Suman Bhattarai