Two rhino horn and bear gall bladder smugglers have been arrested just outside Nepal's capital.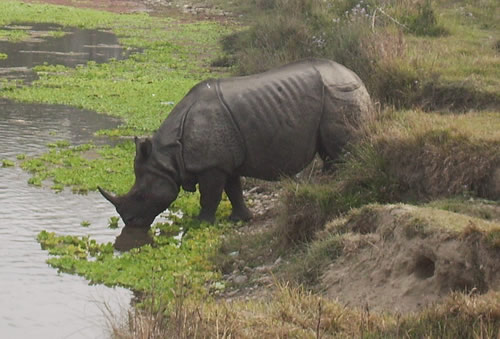 Undercover police have arrested two members of a wildlife smuggling operation near Kathmandu. The officers posed as buyers and confiscated one rhino horn and two bear gall bladders.
Both rhino horn and bear bile are prized ingredients in traditional Chinese medicine.
At the Metropolitan Police Sector Maharajgunj, Deputy Superintendent of Police Deepak Thapa said via eKantipur that the smugglers tried to sell the rhino horn for up to Rs. 3.2 million per kg and the bear gall-bladder for up to Rs. 25,000 per gram.
A preliminary investigation indicates that the rhino horn and gall bladders were destined for use in traditional medicines in China.
The arrested men have been identified as Mingmar Tamang (27) of Rasuwa and Kabod Gurung (18) of Mustang. Tamang is believed to be part of a wildlife poaching syndicate that kills rhinos and bears in wildlife sanctuaries in order to smuggle the horns and gall bladders to China.
Upon realizing the deal was a sting, the men tried to tell the officers that the animal parts were "fake". However, the Department of Parks and Wildlife Conservation determined that the rhino horn and bear gall bladder were genuine.
The smugglers will be handed over to the Kathmandu District Forest Office.
Greater one-horned rhinos in Nepal
Approximately 435 greater one horned rhinos (Rhinoceros unicornis) call Nepal their home, occupying Chitwan National Park, Bardia National Park, and Shukla Phanta Wildlife Reserve.
Nepal's rhinos are in constant danger of being killed for their horn, due to myths and superstitions about rhino horn's so-called healing powers.
Rhino horn has been used for centuries in traditional Chinese medicine, where it has been prescribed for a wide array of ailments, including fever, anxiety, boils – and even "devil possession".
However, several scientific studies have confirmed that rhino horn actually contains no medicinal properties whatsoever.
Source: eKantipur
Photo courtesy of Shankar Chaudhary