Contrary to popular belief, Yemen is not a factor in today's illegal rhino horn trade.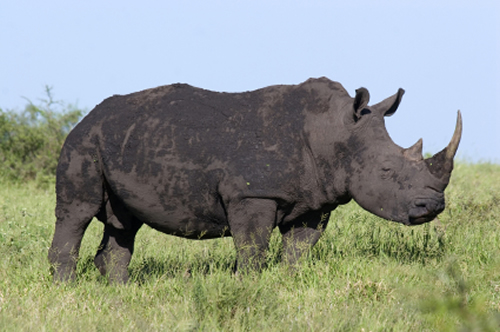 Although Yemen was once the primary destination for illegal rhino horn from Africa, today that distinction belongs to the traditional medicine markets of China and Vietnam.
The most recent comprehensive review of the illegal rhino horn trade prepared by TRAFFIC found that the majority of rhino horns are headed for consumer markets in China and Vietnam, once leaving southern Africa.
Currently, most rhino horns leaving southern Africa are destined for end-use markets in southeast and east Asia, especially Viet Nam and China; available evidence does not (at this time) implicate Yemen, another traditional end-use market, in this trade.
In addition, a significant number of Chinese and Vietnamese nationals have been arrested with illegal rhino horns, and a number of rhino horn seizures were made between 2001 – 2009, along known smuggling routes between Africa and China, such as Singapore. Vietnam also made several rhino horn seizures since 2003, including the Ho Chi Minh City international airport and at the Laos border.
The continued involvement of Vietnamese and Chinese nationals in the acquisition of rhino horns within Africa also needs to be addressed from the standpoint of collective and collaborative law enforcement action involving authorities both in Africa and in Asia.
What happened to Yemen?
Yemen's penchant for ceremonial daggers known as jambiyas once posed a significant threat to African rhinos, but this is no longer the case.
Several contributing factors led to the decreased demand:
An extensive public awareness program in Yemen carried out nearly ten years ago by Dr. Esmond Bradley Martin and Lucy Vigne
The changing fashion tastes of Yemeni men. Most now prefer Western-style trousers, which do not accommodate a jambiya
A flood of Chinese plastic, which some craftsmen are using to create "knockoffs"
While antique jambiyas are extremely valuable, daggers made with "new" rhino horn are less desirable
Demand for rhino horn in Vietnam
Some wildlife trade investigators have said that rhino horn is readily available in Vietnam at retail outlets and via hospitals.
These shops are mostly traditional medicine stores, but also include street-side shops which are identified by signs that advertise special crockery used to powder the horns.

Alternatively, staff at a particular hospital in Ha Noi are said to have approached patients diagnosed with terminal cancer, and offered to put them in touch with traders who have authentic horns for sale.
Also unsettling are claims that orders can be placed for rhino skin and blood.
In Ho Chi Minh City, several of these sellers also claim to be able to supply the skin and blood of rhinoceros, though orders must be placed one month in advance.
A number of Vietnamese nationals have also been implicated in schemes to launder rhino horns obtained in trophy hunts.
… Vietnamese "trophy hunters" paid above market price for rhino hunts, but then had to be instructed how to shoot and would completely forego any proper trophy preparation; the issuance of export permits to Vietnamese nationals who had previously been identified in ongoing rhino crime investigations …
Fortunately, progress has been made in identifying and punishing people involved in Vietnam's illegal rhino horn trade.
Less than 10 days ago, a Vietnamese court sentenced a rhino horn smuggler to three years in jail for attempting to transport five rhino horns from South Africa to Vietnam. Four of the horns were obtained via a "legal" trophy hunt.
Last month, a South African court awarded a ten year jail sentence to a Vietnamese man who was caught with rhino horns that were a DNA match to a rhino that had been killed just a few days earlier.
Demand for rhino horn in China
In addition to media reports implicating Chinese nationals in rhino poaching incidents in South Africa, rhino horn traders in China may be involved in the accumulation of rhino horn stockpiles. The spike in rhino poaching also coincides with China's designation of "traditional Chinese medicine" as a "strategic industry" – which has been massively funded by the state.
For example, The Zululand Observer reported in 2009 that five people of Chinese origin were arrested for illegally entering the Opathe game reserve, where at least 11 rhino have been killed.
Developments regarding the OEHP incidents have since seen four men and a woman, all of Chinese origin, appear in the Babanango Magistrate's Court on Tuesday this week, following their arrest inside OEHP near Ulundi. They were found trespassing, as the reserve has been temporary closed to the public, pending the appointment of a new manager for the park. They were not asked to plead to any charges and the case was postponed pending further investigations. Those who appeared are Pingquan Ni (37), Shuiwang Wu (37), Daxin Zhang (42), Xiufu Lin (32) and Meixia Zhu (26).
Although the original article appears to have been taken offline, a published report by Animal Rights Africa, Under Siege: Rhinos in South Africa, confirms this incident. However, information regarding whether or not these individuals were actually sentenced is not readily available.
Furthermore, a Chinese report, Effectively Utilizing Traditional Chinese Medicine in Unexpected Event, recommends the accumulation and stockpiling of raw medicinal materials – such as rhino horn – because of its "long growth cycle".
If they are not stockpiled in adequate quantity in advance, shortage of them will occur in case of an epidemic of infectious disease.
The same document suggests that China already possesses a massive stockpile of rhino horn.
According to incomplete statistics, there are tons of rhinoceros horns kept in the storehouses of TCMM companies in provinces and municipalities. If they are not laid up, supervised and regulated in a unified manner by the government, this resource will be wasted.

Additionally, it will make it possible for lawbreakers to regrate wildlife. It seems very important for the government to store up the four key drugs at this time.
The choice of words in the above statement is interesting, due to the fact that in the commodities world, "regrate" refers to buying up provisions in order to sell again at a profit.
And in September 2007, The Wall Street Journal reported that the Chinese government announced an unprecedented $130 million budget for "traditional Chinese medicine."
Note the significant increase in rhinos illegally killed in South Africa from 2007 – present:
2007: 13
2008: 83
2009: 122
2010: 153 (so far)
Rhino horn is of no medicinal value
The greatest threat to rhinos today is the use of rhino horn in traditional medicines in China and Vietnam. Rhino horn has traditionally been prescribed for a wide range of ailments, including fever, anxiety, boils – and even "devil possession".
However, rhino horn has been extensively analyzed and it actually contains no medical properties. The effect of consuming rhino horn has been compared to chewing one's own fingernails.
---
African and Asian Rhinoceroses – Status, Conservation and Trade. CoP15. CITES Secretariat, Geneva, Switzerland.
Pei, H. (2009). Effectively Utilizing Traditional Chinese Medicine in Unexpected Event. Strategic and Development Department, China National Group Corp. of Traditional & Herbal Medicine.
Animal Rights Africa (2009). Under Siege: Rhinoceroses in South Africa. Animal Rights Africa Special Report, South Africa.
Image: istockphoto.com