A Chinese media source has reported the arrival of 12 rhinos from South Africa.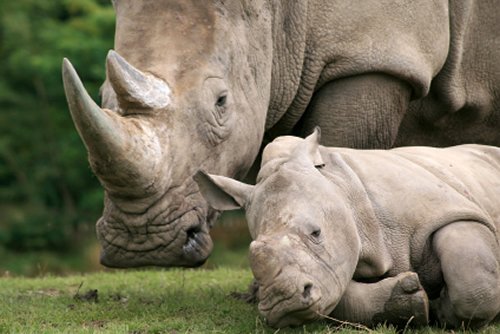 Yunnan Wild Animal Park in Kunming, China, reportedly received 12 young rhinos from Johannesburg, South Africa, during the last week of June.
The average age of these rhinos is just four years old.
The rhinos were said to have landed in Guangzhou on June 23th, after a stop over in Kuala Lumpur. Two days later, they arrived at the Yunnan Wild Animal Park in Kunming, according to the Spring City Mobile Newspaper.
Breeding pairs?
The selection of six male and six female white rhinos from three different locations in South Africa to "avoid inbreeding", suggests that Yunnan Wild Animal Park is planning to breed them.
Additionally, it was reported that representatives from the Yunnan Wild Animal Park traveled to Johannesburg in March and June to "research rhino breeding technology".
Although it is not confirmed that these rhinos will be "farmed" in order to "harvest" their horns for use in traditional Chinese medicines, this new situation certainly warrants close scrutiny by wildlife trade officials.
Selecting rhinos by helicopter – just prior to World Cup
One of several troubling aspects of this development is the alleged use of helicopters and veterinarians to "select" the rhinos – a similar technique employed by poaching syndicates targeting South Africa's rhinos.
The rhinos were said to have been selected on June 3rd, just prior to the World Cup in South Africa.
It is disturbing to note that seven rhinos – at least five females – were murdered by poachers during the World Cup.
Young rhinos often stay with their mothers up until they are four years old – and it is disconcerting that the average age of the 12 young rhinos exported from South Africa to China is also four years.
This indicates that while some of the rhinos could be older than four, some could be even younger.
'Moratorium' on live rhino exports
Another cause for concern is the moratorium on live rhino exports from South Africa, due to reporting discrepancies.
According to recent research conducted by TRAFFIC, African and Asian Rhinoceroses – Status, Conservation and Trade, "inexplicable anomalies" were found in the reporting of live rhino exports by South Africa.
Between 2006 and 2009, CITES data show that South Africa reportedly exported 193 rhinos, whilst 235 rhinos were received by other countries over this period.
Furthermore, significant concerns were raised regarding the purpose of South Africa's exports, particularly those to China.
The deliberative process and criteria used by South Africa in determining what constitutes and "appropriate and acceptable destination" for live rhinos also remains to be clarified.
As a result of these concerns, live rhino exports from South Africa were supposed to be temporarily halted.
Recently, concerns about these issues in South Africa have resulted in a temporary moratorium being placed on live rhino exports.
Have live rhino exports legally resumed in South Africa?
Killing rhinos for traditional Chinese 'medicine'
Today, China and Vietnam comprise the major consumer markets for traditional Chinese medicine containing rhino horn, and most illegal rhino horn leaving southern Africa is destined for these two countries.
The demand for rhino horn is due to the persistent myths about the "healing powers" of rhino horn, although these notions have been debunked by scientific analysis.
Even if the moratorium has been lifted, it is puzzling as to why – in the midst of the rhino poaching epidemic- South Africa has sent 12 young rhinos to China, a country which has been heavily implicated in the illegal rhino horn trade, and where the use of rhino horn "medicines" is still acceptable.
Sources: Spring City Mobile Newspaper
Milliken, T., Emslie, R.H., Talukdar, B. (2009). African and Asian Rhinoceroses – Status, Conservation and Trade. CoP15. CITES Secretariat, Geneva, Switzerland.
Image: istock.com