Forest guards in Orang National Park shot and killed two rhino poachers.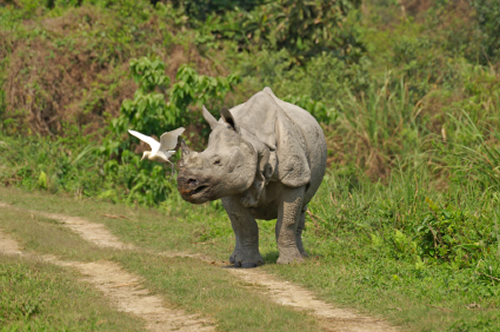 In a midnight gun battle that reportedly lasted half an hour, forest guards in Assam's Orang National Park managed to shoot and kill two rhino poachers.
Forest officials acted on intelligence reports indicating that a four-member gang had entered the park to kill a rhino, according to Indian news sources.
Divisional Forest Officer (DFO) Sushil Kumar Daila said via India Blooms that all forest guards were alerted to the situation.
We moved our armed forest guards to all existing routes of the park and successed in searching the location, where the poachers had taken shelter. When the poachers tried to escape, we fired. Bullets were exchanged for half an hour.
Two of the four poachers managed to flee in the darkness. However, one 303 rifle, a 7.65 pistol, 10 rounds of 303 rifle ammunition, and three rounds of 9 mm pistol cartridges were confiscated.
Last month, an Orang forest guard was kidnapped and brutally murdered by a poaching gang.
Killing rhinos in India
India's rhino poaching gangs consist of small groups of just three to five people who travel from Nagaland to Assam in order to kill greater one-horned rhinos in Kaziranga and Orang National Parks.
In Orang National Park, the gang members are usually Karbis and Nagas, and the "guides" are usually Bangladeshi immigrants who have settled in the surrounding area. Once the rhino is slaughtered, the horn is taken on foot to middlemen in Dimapur – a notorious wildlife trafficking hub.
From Dimapur, the rhino horn is smuggled to its final destination in east Asia, usually China.
Demand for rhino horn
The greatest threat to all species of rhino today is the use of rhino horn in traditional Chinese medicine. Demand for rhino horn "medicines" ensure that poaching gangs continue to stay in the business of killing rhinos for their horns.
Although scientific analysis has confirmed that rhino horn is of no medicinal value, cultural myths attributing "healing powers" to rhino horn still persist throughout China and Vietnam.
Traditional Chinese "remedies" containing rhino horn have been prescribed for centuries to treat a wide assortment of conditions, including fever, boils, anxiety – and even devil possession.
Sources: The Assam Tribune and India Blooms