A female rhino has been butchered by poachers in a South African game reserve.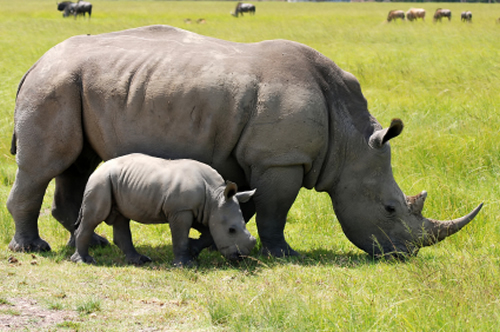 A female rhino in the Krugersdorp Game Reserve is the latest atrocity in the illegal rhino horn trade – killed by poachers who crudely slashed off her horns.
And there is another victim of this shameful crime: Her helpless nine-month-old calf.
According the Independent Online, employees of the reserve found the rhino Wednesday morning. Police are currently investigating "positive leads" in the case.
Reported number of rhinos killed in South Africa: 2007 – present
This is at least the eighth rhino murdered in South Africa during the past month, and the 125th of the year; however, the total could be closer to 130.
Illegal rhino killing has skyrocketed since 2008.
2007: 13 rhinos killed
2008: 83 rhinos killed
2009: 122 rhinos killed
Poaching syndicates and industry 'insiders'
Since 2008, South Africa has been ruthlessly targeted by rhino poaching syndicates, which are believed to be working with industry "insiders" to slaughter rhinos in response to the demand for rhino horn in China and Vietnam.
These "insiders" include trophy hunt operators, park rangers, and even veterinarians.
Rhino horn contains no medicinal properties
Although a belief in the "healing powers" of rhino horn are driving the illegal trade, rhino horn has actually been extensively analyzed and found to contain no medicinal properties.
In fact, Dr. Raj Amin, one of the world's leading rhino horn experts, notes that consuming rhino horn has the same effect as chewing one's own fingernails. Check out the video below:
Unfortunately, the cultural myths that attribute healing properties to rhino horn are deeply entrenched, as rhino horn has been a key ingredient in traditional Chinese medicine for thousands of years.
And as long as these myths continue, rhino poaching syndicates will have plenty of business.
Source: Independent Online
Photo: istock.com
Note: Updated July 15, 2010