Poachers struck again during the World Cup, leaving behind the mutilated bodies of two rhinos.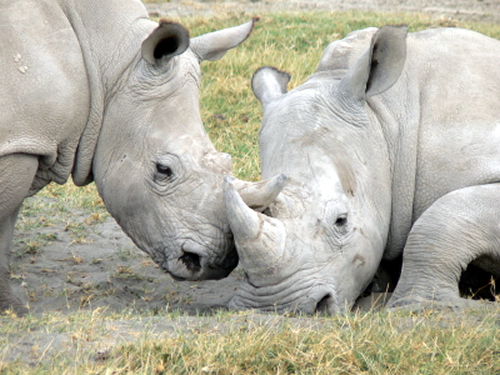 Two female rhinos were the latest victims of South Africa's poaching epidemic that has brazenly continued during the World Cup. Investigators found one body in the Borakalalo National Game Park in North West, and the other near Bela Bela.
According to The Independent, a police helicopter was summoned after the anti-poaching team heard shots fired.
Sadly, it was too late.
The second rhino, found near Bela Bela, had no bullet wounds. Authorities believe she had been shot with a tranquilizer dart before the killers hacked out her horn with a panga and left her to die. Recent reports claim that "far East" buyers of rhino horn prefer that the horn is removed while the rhino is still alive.
Helicopters used by poachers to locate and kill rhinos
Investigators are focusing their efforts on helicopters, which are being used by poachers to spot and dart rhinos. A helicopter and small aircraft were recently confiscated during a rhino poaching syndicate bust that included well-known trophy hunt operators Sandhurst Safaris and Saaiman Hunting Safaris.
The public has been of assistance by reporting suspicious helicopter sightings to authorities.
Last Sunday a family from Thabazimbi in Limpopo took photographs of a helicopter, an R44, which, they told investigators, had been flying suspiciously over their farm. The aircraft registration numbers had been deliberately covered over. Farmer Piet van Rensburg subsequently posted a photograph of the helicopter on the aviation website, Avcom.

When the helicopter landed on a rocky outcrop, Van Rensburg's son-in-law drove up to have a closer look. But before he could confront the occupants the helicopter flew off, as if to escape scrutiny.

Other postings said the same helicopter was spotted flying low in the Bela Bela and Modimole areas earlier that week. The identity and ownership of the helicopter spotted on the Van Rensburgs' farm is known to Independent Newspapers.
Police suspect that the helicopter pilot is working for two poaching syndicates on a freelance basis.
Demand for rhino horn unabated in China and Vietnam
Despite extensive scientific analysis proving that rhino horn has no medicinal effects, Chinese and Vietnamese consumers persist in believing cultural myths that attribute "healing properties" to rhino horn. These superstitious consumers are willing to pay up for rhino horn – and poaching syndicates are cashing in on the demand.
Some good news: In a most welcome turn of events last week, Kempton Park Magistrate Prince Manyathi sentenced a Vietnamese man to 10 years in jail for attempting to smuggle 16 kilograms of rhino horn from South Africa to Vietnam.
Source: The Independent
Photo: istock.com