Assam's elite National Security Guard is providing combat training to boost forest guards' ability to protect rhinos.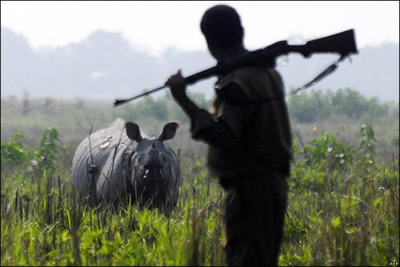 Assam is turning up the heat on rhino poachers by having 250 forest guards trained in commando operations by the elite National Security Guard (NSG).
The intense three-month training module includes use of sophisticated weaponry and martial arts, as well as a rigorous physical fitness routine. Recruits will also receive follow-up training for a year.
After completing the specialized combat training, the recruits will be deployed in Assam's wildlife sanctuaries, with the majority going to Kaziranga National Park.
Kaziranga National Park is home to approximately 2,048 of the world's 2,800 or so greater one-horned rhinos (Rhinoceros unicornis), making it the world's largest concentration of this species.
Assam targeted by rhino poaching gangs
Assam's treasured rhinos are under siege by rhino poaching gangs who travel from Nagaland to Assam in order to kill greater one-horned rhinos in Kaziranga and Orang National Parks.
The rhinos are slaughtered for their horns, which are smuggled to China for use in "traditional medicines" – despite the fact that rhino horn has been proven by scientific analysis to be of no medicinal value.
Source: Sindh Today News
Photo via Bush Warriors