A second critically endangered Javan rhino has been found dead in Indonesia.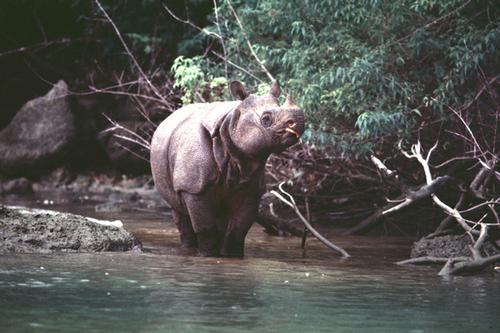 Indonesia's Ujung Kulon Park has lost another of its critically endangered Javan rhinos.
Because the rhino's horn was intact, the rhino is likely to have died from natural causes. The male rhino, believed to be about 30 years of age, was found dead in a river. Javan rhinos have a life span of 30 – 45 years.
Indonesian Rhino Foundation head Widodo Ramono said via The Jakarta Globe that fewer than 50 Javan rhinos remain in Ujung Kulon, the last known location of this critically endangered species (Rhinoceros sondaicus).
We have 40 to 50 rhinos here now. If two die, that's four percent of the population.

There were no signs it had been killed by poachers as its horn was intact. It might have died of old age or illness. We're still investigating the cause of death and checking if there are other carcasses in the area.
Plans are under way to establish a second habitat for Indonesia's Javan rhinos, in hopes of encouraging breeding and expanding the population.
A Javan rhino subspecies (Rhinoceros sondaicus annamiticus) – with a population of fewer than five individuals – hangs by a thread in Vietnam. Although these rhinos have not been seen by wildlife researchers for years – and the last known photo was taken by a camera trap, possibly in 2006 – poachers still managed to kill one and hack off the horn.
Superstitions about rhino horn driving rhinos to the edge of extinction
Javan rhinos – like all rhino species – are under tremendous threat from illegal killing, fueled by demand for rhino horn in east and southeast Asia. The latest research via the IUCN/SSC and TRAFFIC found that most rhino horn leaving Africa is destined for end-use markets in China and Vietnam.
Persistent superstitions in these regions attribute "healing powers" to rhino horn, despite the fact scientific analysis has confirmed rhino horn has no medicinal effect on humans.
Source: The Jakarta Globe
Photo via International Rhino Foundation