The public burning of Assam's rhino horn stockpiles could occur sooner rather than later.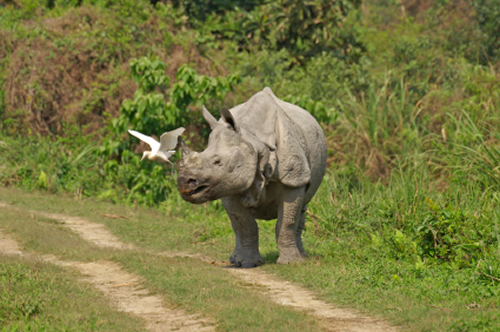 Earlier this year, Assam wildlife authorities hatched a bold plan for some old-school activism: The public burning of the state's 1,571 stockpiled rhino horns.
And the latest from Assam is that the radical event could be taking place by month's end.
Sending a message: Rhino horn has 'no monetary or medicinal value'
The public burning of just over 1,500 rhino horns is intended to send a serious message to rhino poachers, wildlife traders – and anyone else engaging in the illegal rhino horn business – that rhino horn has no monetary or medicinal value.
The Secretary General of wildlife NGO Aaranyak and Asian Rhino Specialist Group chair, Dr. Bibhab Talukdar, approves of the decision as way to show Assam's full commitment to rhino conservation.
… the decision is a laudable one, as it would send a strong message across the world that rhino horn was not a valuable item as was believed.
Dr. Talukdar also stated earlier that he would like further attention brought to the event by having it filmed.
The whole event of burning of horns should be transparent and videographer.
But not everyone in Assam agrees with the plan.
Resistance from poaching 'hotspot'
Assam's bold plan has met with protests in Karbi Anglong, where various student groups are opposed to the burning.
The resistance in Karbi Anglong does not come as a surprise: Villagers from the Karbi Anglong district are frequently paid to assist rhino poachers in finding their targets in Kaziranga National Park, and poachers are known to evade authorities by escaping through the Karbi Anglong district.
One student said via The Telegraph that the horns should instead be kept in a museum.
This is a rare item here and should be kept in a museum so that future generations will at least be able to see it.
However, by burning the stockpiles, Assam wildlife authorities are determined that future generations will be able to see the horns on the rhinos, rather than in museums.
Will China get the message?
The greater one-horned rhino (Rhinoceros unicorns) population is currently around 2,850. Although the IUCN recently reclassified the species as Vulnerable, these rhinos still face an ongoing threat of illegal killing for their horns.
Insatiable demand for rhino horn in east Asia, especially China, is behind the demand for rhino horn. Rising incomes in the region – and heavy funding of the Chinese pharmaceutical industry – have made it possible for an unprecedented number of people to purchase so-called "medicines" derived from rhino horn and manufactured by Chinese pharmaceutical companies.
Despite being a CITES signatory, China has not shown restraint in its own demand for rhino horn, nor does it appear to follow international laws governing the illegal trade in rhino horn.
Let's hope China gets the message loud and clear when Assam's stockpiles are burned.
Source: The Telegraph, 10 June 2010 and India Blooms News Service, 11 June 2010
Photo: istock.com