The illegal killing of rhinos in South Africa is still on the rise.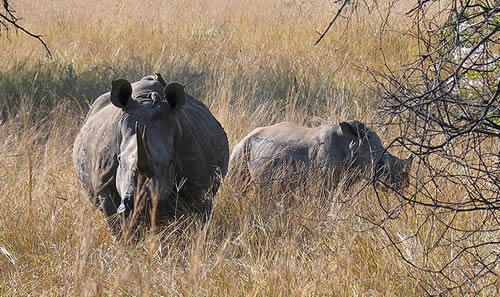 The number of rhinos illegally killed in South Africa is continuing to rise at an alarming rate, according to SANParks CEO David Mabunda.
He noted that the SANParks crime unit is working with anti-poaching teams, local police, and prosecutors in an effort to protect rhinos from poachers.
Illegally killed rhinos 2007 – present
Dr. Mabunda pointed out that 13 rhinos were killed by poachers in 2007, and the number has been growing ever since.
2008: 83 rhinos killed
2009: 122 rhinos killed
2010: 92 rhinos killed between January and May
Illegal rhino horn destined for China and Vietnam
Organized poaching syndicates are targeting rhinos in response to the lucrative demand for rhino horn, especially among newly affluent Chinese and Vietnamese. The latest research via the IUCN/SSC and TRAFFIC found that most rhino horn leaving Africa is destined for end-use markets in China and Vietnam.
The continued involvement of Vietnamese and Chinese nationals in the acquisition of rhino horns within Africa needs to be addressed from the standpoint of collective and collaborative law enforcement action involving authorities both in Africa and Asia.

Currently, most rhino horns leaving southern Africa are destined for end-use markets in southeast and east Asia, especially Viet Nam and China.
Persistent cultural superstitions in east and southeast Asia attribute "healing powers" to rhino horn – despite scientific analysis proving rhino horn has no medicinal effects on humans. In addition, products derived from endangered species, such as rhinos or tigers, are especially coveted as status indicators among wealthy Chinese and Vietnamese.
Source: The Associated Press