Assam's rhinos remain under threat by poaching gangs who recruit impoverished locals and prey on precious pachyderms.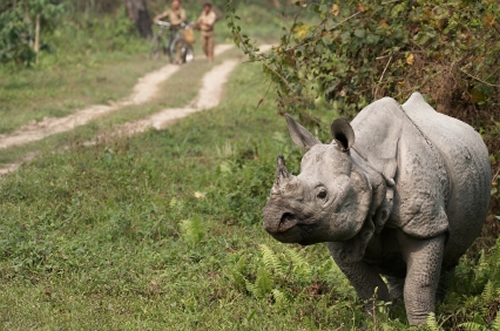 Poaching gangs targeting the greater one-horned rhinos of Kaziranga and Orang National Parks are the scourge of Assam's conservation efforts – but who are these murderers and where do they come from?
Different players, same tragic results
Illegal rhino killings have increased sharply over the past few years, with a devastating effect on both Asian and African rhino species. Experts agree by now that the rhino poaching surge is a direct result of increased wealth and insatiable demand from Asia's growing population; the major end-use markets for rhino horn today are China and Vietnam.
In African countries, the killing is carried out by sophisticated, well-funded poaching syndicates – often with connections to "legitimate" trophy hunting operations, where horns and money are laundered. These cartels can afford to use aircraft and the latest weaponry to slaughter rhinos – knowing that the Asian appetite and Chinese prosperity will pay the bills.
Recently, it was estimated that one rhino is killed every 41 hours in South Africa.
Although the same economic forces are at work in India (illegal killing of rhinos to profit from Asian demand for rhino horn), the tactics and players differ from rhino poaching in African countries.
Tragically, the results are the same: Rhinos needlessly massacred because of superstitions about so-called "medicinal powers" of rhino horn.
Who is killing the rhinos of Assam?
A recent report, Rhino Poaching in Assam: Challenges and Opportunities, revealed interesting details about the organization and methods used by poaching gangs targeting Kaziranga and Orang National Parks in Assam.
According to interviews of poachers conducted by one of the authors, world-renowned rhino trade expert Dr. Esmond Martin, the gangs are small groups of just three to five people who travel from Nagaland to Assam in order to kill greater one-horned rhinos in Kaziranga and Orang National Parks.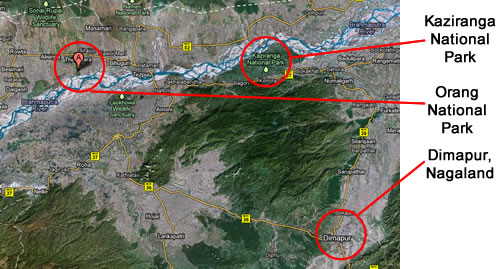 Rhino poaching gangs: Kaziranga National Park
In Kaziranga, the shooters themselves are usually from Dimapur, Nagaland (a hub for illegal wildlife trading), and sometimes from the Karbi Anglong area, south of the park. One or two of the men are impoverished locals – recruited with financial incentive to guide the killers to their helpless target.
Poaching gangs usually consist of three to five people. According to several sources, generally one helper is local and familiar with the area; another, also usually local, carries the provisions; and one or two others are from Nagaland, but occasionally from the Karbi Anglong area directly south of the Park, who are in charge of the gang and who do the shooting.

The Nagas bring rifles, commonly .303s from Dimapur, a trading town on the Assam-Nagaland State border. They give an advance payment of 2000–30,000 Indian Rupees (INR) (USD 42–625) to the field helpers and sometimes promise to pay more money after the rhino is killed, although this does not usually materialize. The poachers shoot one rhino per park visit and usually only remove the horn.
It then takes two or three days for the killers to travel back to Dimapur, where the rhino's horn is sold to a trader.
The Nagas then return to Dimapur with their guns and the horn, preferring to walk all the way to avoid detection. A trader in Dimapur, who may or may not have organized the gang, pays INR 200,000–500,000 (USD 4167–10,417) per kg for the horn.
One of the poaching gang members interviewed by Dr. Martin was an 18-year-old from the Karbi tribe named Rajan. He was a field helper on four rhino killing expeditions into Kaziranga National Park.
They also employed three poachers from the Karbi Anglong region to shoot the rhinos with .303s brought from Dimapur. The gang entered the Park in January, May and July 2007 and shot a rhino on each visit.
On the last trip into the park, forest guards managed to kill one of the shooters and arrest two other gang members. Rajan escaped; fortunately, he later surrendered to the Forest Department at the insistence of his parents.
Dr. Martin also interviewed another poacher from the Karbi tribe, a 28-year-old named Balak. He guided a gang of three Nagas into Kaziranga National Park on five occasions. The gang killed one rhino on the final trip; Balak eventually surrendered.
The gang had to enter the Park five times before managing to kill a rhino due to the heavy presence of Park staff. On the fifth time, they entered the Park at 0300h and shot a rhino with four bullets from a .303 rifle at 1400h. The Nagas took the horn and went on foot back to Dimapur. Balak then returned to Balijuri but did not receive more money. Later, the ecodevelopment committee in his home village found out about the poaching and pressurized Balak to surrender.
Rhino poaching gangs: Orang National Park
Rhino poaching gangs operating in Orang National Park do so in a similar fashion to those in Kaziranga, with members consisting of Karbis and Nagas. However, the "guides" are usually Bangladeshi immigrants who have settled in the surrounding area.
Those with the guns are Karbis from Assam or poachers from Nagaland and Manipur States east of Assam. The field helpers are thought to be mostly immigrants originating from East Bengal/Bangladesh, who are the main inhabitants of the fringe villages surrounding the Park.
After the rhino is slaughtered, the horn is taken to middlemen in Dimapur.
Speculation surrounds smuggling routes
Unfortunately, authorities do not yet know precisely how the rhino horn gets from Dimapur to its final destination of east Asia.
There is speculation that smuggling routes are via West Bengal, Bhutan and Nepal to China. Or perhaps from Dimapur via Myanmar into Thailand, a well-known hub for illegal wildlife cargo destined for China. Other routes may be through Siliguri to Nepal or Bangladesh, and to Myanmar via Imphal. Shillong to Bangladesh and Silchar to Imphal or Aizawl to Myanmar via Bangladesh are also considered occasional routes.
The authors note that cooperation from Nagaland authorities is sought in the matter of illegal rhino horn trading and smuggling; this appears to be an ongoing bottleneck for gathering intelligence about the shooters and Dimapur traders.
The greater one-horned rhino: Still a conservation success story
Despite the ever-present danger to Assam's greater one-horned rhinos, the latest study (November 2009) shows that the population has increased overall.
And considering this species has recovered from fewer than 200 individuals to a population of around 2,800 today, the greater one-horned rhino remains a conservation success story.
Sources:
Rhino Poaching in Assam: Challenges and Opportunities; Esmond Martin, Bibhab Kumar Talukdar and Lucy Vigne. Download from Pachyderm
African and Asian Rhinoceroses – Status, Conservation and Trade; IUCN/SSC, African and Asian Rhino Specialist Groups and TRAFFIC. Download from CITES.
Image: istock.com