Thanks to a new generation of conservationists, grassroots programs are having a positive effect on rhino conservation in Nepal.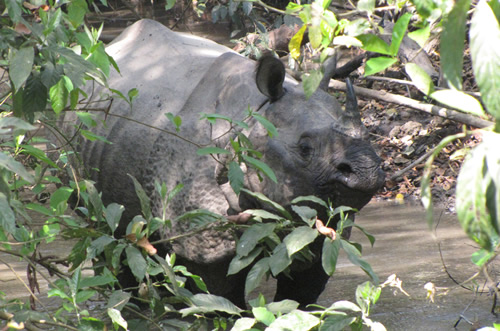 Partnership for Rhino Conservation (PARC), led by one of Nepal's hardworking young conservationists, Suman Bhattarai, is an innovative program that shows promise. Under his guidance, PARC focuses on helping the residents of Chitwan National Park's buffer zone live side-by-side with the greater one-horned rhino.
PARC's approach
PARC applies participatory and experienced-based learning to reach its noble goal of Action for Environment and Biodiversity Conservation in Nepal – specifically rhino. According to Team Leader Suman Bhattarai, PARC's community-based conservation approach considers the following:
Active participation, instead of strict protection
Ecosystem conservation, instead of landscape conservation
Revenue sharing and utilization, instead of banning resource use
Mr. Bhattarai believes that rhino conservation efforts will be successful through raising awareness, income-generating activities, and providing educational opportunities for those living in poverty. He also said that Nepal's Buffer Zone Concept is part of what makes the country's rhino conservation strategy different.
30 % – 50 % of the park's income is provided to buffer zone people in order to develop the community and strengthen conservation efforts.
Mr. Bhattarai explained that people need alternative incomes in order to stop habitat destruction and poaching.
Poor people living around the Chitwan National Park are involved in rhino habitat destruction and poaching to generate money for livelihood. Without any alternative livelihood options, it is hard to create awareness amongst local people who are dependent on natural resources and wildlife hunting.
One of the income-generating activities administered by PARC to reduce pressure on rhino habitat is the Livelihood Program for Rhino Conservation.
So far, eight farmers have been supported in the adoption of income-generating activities that are conservation-based. Participants have kept small fisheries, pigs, bees, and ducks, as well as gardens.
PARC's activities also include:
Publication of a conservation magazine to raise awareness among teachers, students, forest and buffer zone user groups. PARC encourages students to write about their surroundings and offers rewards for essay competitions.
Field trip for students to the Institute of Forestry, Pokhara, to study snakes and ease misunderstanding of these creatures.
Rhino and tiger conservation workshop, with an emphasis on anti-poaching training. A total of 40 youths and 60 women participated in the workshop and anti-poaching activities!
Seedling production was initiated as an income-generating activity. A fast-growing perennial palm species was selected and seedlings were started in reused polythene bags.
Notice boards installed in schools, which were previously using doors, windows and blackboards for important announcements. Over 800 students benefited from the board installations!
Mr. Bhattarai summed it up by saying that the continuation of successful rhino conservation in Nepal depends on people.
There will be a greater chance of successful rhino conservation when activities are implemented through the right person in the right place – with the proper vision.
Learn more about PARC
To find out more about PARC and how you can help, visit the PARC website at: rhinonepal.org.
Saving Rhinos helps Partnership for Rhino Conservation by selling rhino t-shirts. The proceeds help pay for printing PARC's educational materials and sponsoring PARC's public awareness events.
Thank you to Suman Bhattarai for taking time to discuss Partnership for Rhino Conservation.
Rhino population in Nepal
Despite Nepal's socio-political unrest and poaching incidents, the most recent report prepared by IUCN/SSC and TRAFFIC indicates the country's greater one-horned rhino population of 435 is stable for now.
This still, however, represents a 5.3% increase in overall numbers since the CoP14 report as the larger and safer Chitwan NP population increased from 372 in 2005 to 408 in 2008, a 3.1% increase per annum.
Sadly, the same report stated that the other two species of Asian rhino, Javan and Sumatran, are believed to be experiencing a continued downward population trend.
Image courtesy of Suman Bhattarai, PARC Nepal