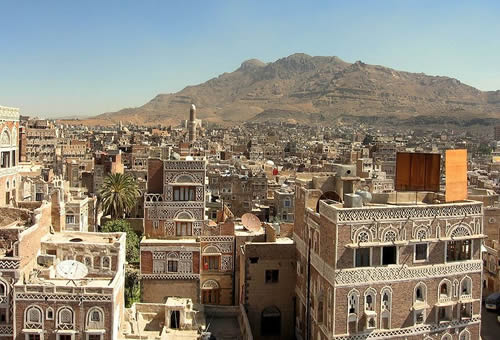 Once the largest importer of illegal rhino horn for use in ceremonial dagger handles, Yemen is no longer considered a driving force in the current rhino poaching crisis.
While demand for illegal rhino horn in Asia surges and threatens to undermine decades of conservation efforts, the market for illegal rhino horn in Yemen has decreased sharply.
Nearly ten years after an ambitious public awareness campaign (Closing Down the Illegal Trade in Rhino Horn in Yemen) and extensive research carried out by Dr. Esmond Bradley Martin and Lucy Vigne, Yemen's illegal trade in rhino horn has not re-surfaced as a significant threat to African rhinos.
For the demand for new rhino horn to remain low in Yemen and to avoid an increase in price (which would encourage more poaching of rhinos in Africa) we initiated a publicity campaign on the rhino's plight and on the importance of using alternative materials.

We held press interviews and gave photographs to journalists on rhino poaching and the rhino horn trade. Posters with Arabic captions covering aspects of rhino conservation were framed and hung at some of Sanaa's museums and institutes.

Among the pictures on these posters was a copy of the photograph of the religious edict or fatwa written by the grand mufti, which stated that killing rhinos was against the will of God.
At the time the report was written, the authors noted that for the first time since surveys began in 1978, no new rhino horns were being used to make jambiya handles.
No new main buyers of rhino horn have come onto the jambiya market in Sanaa. The industry continues to be dominated by one family based in Sanaa, which laments the loss of the rhino horn trade, blaming wildlife conservationists.
Although ceremonial Yemeni daggers known as jambiya traditionally feature handles carved from rhino horn, today's jambiya handles can be made from water buffalo horn, camel nails, or plastic.
"You can't wear a jambiya over trousers"
Recent articles about the decline of the jambiya's popularity appeared in The Telegraph and LA Times. It seems the daggers are becoming casualties of the modern world.
A jambiya artisan and repairman lamented via The Telegraph that Yemeni men had taken to wearing Western fashions instead of the traditional sarong.
You can't wear a jambiya over trousers.
Another factor diminishing the jambiya's traditional significance and value has been a flood of Chinese plastic, which some craftsmen are using to create "knockoffs".
A dagger merchant interviewed for the Times said the pervasiveness of Chinese plastic has ruined his business.
If something bad pops up in the market, we blame the Chinese. My business has dropped 1,000% over the years.
While antique jambiyas are extremely valuable, daggers made with "new" rhino horn are less desirable.
What makes a jambia valuable is the handle, with those made of rhinoceros horn the most precious. And its age.
If not Yemen, then where is the market for illegal rhino horn?
In 2008 workshop organized by GAPE and IFAW, Yemen – along with China – was accused of contributing to the recent increase in rhino poaching. However, jambiya traders in attendance stated that they had not received any new rhino horn.
Additionally, in a November 2009 CITES report prepared by the IUCN/SSC African and Asian Rhino Specialist Groups and TRAFFIC (African and Asian Rhinoceroses – Status, Conservation and Trade), Yemen was not considered a current threat to rhino conservation.
Currently, most rhino horns leaving southern Africa are destined for end-use markets in southeast and east Asia, especially Viet Nam and China; available evidence does not (at this time) implicate Yemen, another traditional end-use market, in this trade …

The continued involvement of Vietnamese and Chinese nationals in the acquisition of rhino horns within Africa also needs to be addressed from the standpoint of collective and collaborative law enforcement action involving authorities both in Africa and in Asia.
Apparently, China and Vietnam have taken over as the main destinations for illegal rhino horn.
Sources:
African and Asian Rhinoceroses – Status, Conservation and Trade, available for download at CITES.
Closing Down the Illegal Trade in Rhino Horn in Yemen, available for download at the Rhino Resource Center.
Image: Wikimedia Commons
---
Yemen No Longer Major Destination for Illegal Rhino Horn
by Rhishja Larson originally published January 13, 2010 on EcoWorldly.
---