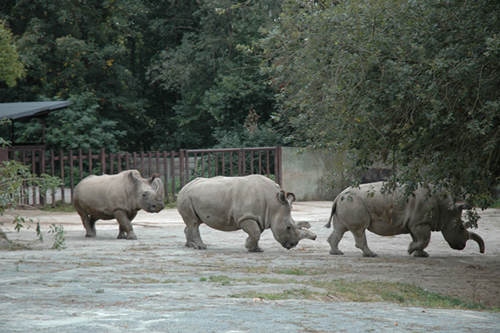 Rhino experts are divided in potential plans to salvage the genes of the world's last eight Northern white rhinos.
Now believed extinct in the wild, the world's only surviving Northern white rhinos are currently in captivity in just two locations: ZOO Dvůr Králové in the Czech Republic and San Diego Zoo's Wild Animal Park.
Most rhino experts understand that the window for achieving a "pure" population of the Northern white rhino (NWR) subspecies (Ceratotherium simum cottoni) is now tragically closed. And while it is generally acknowledged that the best chances of preserving any genetic material is via hybrid offspring of NWR and the southern white rhino (Ceratotherium simum simum), rhino experts are currently divided on how to successfully preserve the NWR genes.
At the heart of the controversy is a plan to move four of the eight surviving NWR from the Czech Republic to Africa.
Proposed move of captive Northern white rhinos to Africa
Recently, ZOO Dvůr Králové, along with Ol Pejeta Conservancy, Back to Africa, and Flora and Fauna International, proposed a plan to move four of the remaining NWR to Africa.
The hope of the NWR Conservation Project is that relocating the rhinos to a natural environment will stimulate breeding – and preserve critical genetic material by allowing NWR to breed with the far more numerous Southern white rhino. In addition, AI options are being explored.
This is to conserve as much adaptive NWR genetic variation as possible with the ultimate aim of reintroducing locally adaptive NWR genes and the animals that carry them into secure areas of former range. This can be achieved through maximising remaining breeding opportunities through inter-crossing of NWRs with Southern White Rhinos at Ol Pejeta, where there is already a well-established and rapidly growing population of SWRs. This effort could potentially be boosted by complementary attempts to produce additional inter-crossed offspring using AI.
Proponents acknowledge that while there is no way to predict whether or not moving the rhinos to Africa will result in successful breeding, they also point out that captive southern white rhinos do not have a strong record of reproduction in captivity – and require "wild supplements" from time to time.
Although it is not possible to assure the probability of successful breeding of the NWRs with other white rhinos in situ at Ol Pejeta, this can be at least assessed against the abysmal reproductive performance of these animals over decades in zoos, and the fact that SWR populations in zoos are still having to be supplemented by animals translocated from the wild in order to maintain numbers. In contrast appropriately stocked populations in good habitat in the wild can increase at a net 8-9% per annum, and sometimes higher with a skewed sex ratio and young age structure.
Despite the best intentions, could zoo environments be to blame?
In addition to the obvious differences in environment, diet and climate, it is possible that the 'intensive monitoring' and 'more controlled environments' recommended (as well as the abnormal social environment these create) are largely responsible for this disparity in performance.
And housing rhinos together for long periods of time may also contribute to lackluster reproductive performance. Earlier this year, two female Southern white rhino were added to the rhino population at Woburn Safari Park, as the original pairs had been living together for so long that they related to each other as siblings instead of potential mates.
Michael Purves of the Northern White Rhinoceros Fund said via email correspondence that his group is likely to support the proposed plan. He stated succinctly that "the rhinos need to start breeding."
However, the world's leading rhino conservation organizations, International Rhino Foundation and Save the Rhino International, advocate a more conservative approach to genetic preservation of the Northern white rhino. Next page …
Pages: 1 2