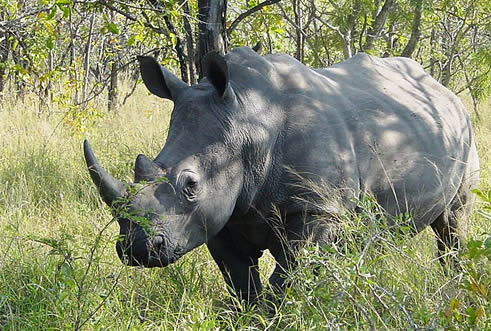 Well-funded poaching syndicates are cashing in on Asia's demand for rhino horn – and jeopardizing decades of rhino conservation efforts in South Africa.
The reason behind the current 15-year high in rhino poaching is no longer a mystery or "baffling" to experts: It is fueled by the insatiable demands of a newly affluent – and increasing – population in Asia.
Commercial rhino poaching has become a well-oiled machine – and the "new Asian wealth" is bankrolling the slaughter.
Today's rhino poachers
Heavily funded, politically connected, and well-armed, today's rhino poachers use helicopters to fly into Africa's game reserves to kill rhino with the latest high-powered weapons.
In a recent Guardian article, chief executive of the Endangered Wildlife Trust, Yolan Friedmann, said the average number of rhino killed has skyrocketed from 10 to 100 yearly.
There has been a rampant increase in South Africa. Poaching figures for this year have already surpassed the whole of last year. It's probably the worst it's been for 15 years. There's a lot more money going into poaching and it's becoming more hi-tech. It's no longer just a man with a bow and arrow wading through the bush. These guys are using helicopters and AK-47 rifles.

Despite the once successful Save the Rhino project, rhinos are under siege. South Africa is facing a crisis. We've done extremely well in rhino conservation, but something has changed in the past 18 months, there's an insatiable appetite for rhino horn in the far east.
Cathy Dean, director of Save the Rhino International, says in the article that the surge in poaching is a threat to years of hard-earned success in rhino conservation.
The gains of the last decade are in real jeopardy. The underlying concern is that this upsurge in rhino poaching – a major issue in Zimbabwe as well as South Africa – is no longer opportunistic poaching by individuals but carried out by … highly sophisticated criminal gangs.
So far this year, 84 rhino have been killed in South Africa. In 2007, the number was 13.
Unfortunately, commercial rhino poaching has become widespread: Zimbabwe's rhino population is also suffering at the hands of a politically connected poaching cartel that fulfills "orders" from Chinese nationals for rhino horn.
And illegal killing isn't the only way rhino horn enters Asia's flourishing endangered species marketplace. Next page >>
Pages: 1 2